The second evening of the D23 Magic & Merriment Event at Walt Disney World took place in the Disney's Hollywood Studios theme park.
Our Arrival…
Somehow we got it into our heads that the seating for the Holiday Shorts and Shows at the Premier Theater inside Disney's Hollywood Studios was to start at 6:00 – we were confused… it started at 6:30. After a great deal of effort on nick's part, we were at least able to enjoy a beer while we waited & thankfully it wasn't raining on us.
Holiday Shorts…
There were four films during this …
On Ice, 1935 (a cute Mickey Mouse cartoon, we own it already; youtube here)
Mickey's Christmas Carol, 1983 (not that hard to get a copy of)
Toy Tinkers, 1949 (a Donald Duck cartoon, youtube here)
One Hour in Wonderland, 1950 (a Christmas show with Walt Disney, Bobby Driscoll, and Kathryn Beaumont)
We are clearly Walt Disney World fans, now that doesn't mean that we don't enjoy other Disney Corporation things, just that we aren't going to get massively excited about sitting in a very uncomfortable seat and watching things that we can watch elsewhere or things that are uninteresting to us. The biggest thing from nora's perspective, the seat was killing her backside, she was massively uncomfortable, and she kept struggling to not fall asleep or just walk out… Enough grousing about the movies.
Buffet…
This was much better than we expected. Although the rain meant that the venue had to be changed on the "fly" as it were, we were escorted over to the Indiana Jones Epic Stunt Spectacular! (Can hardly believe that it was the first time since our first visit to WDW in 1990 that we've been in this attraction.) Tables and chairs had been set up on the "stage"…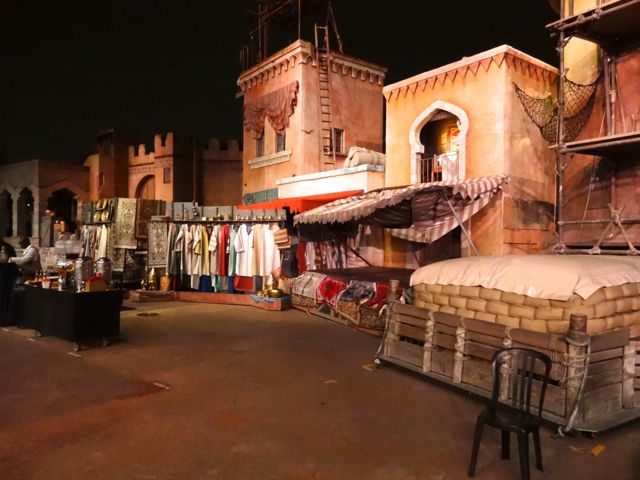 The buffet included…
Green Beans – very good, nora went back for seconds
Pasta with Marinara Sauce – good, nothing special but not bad by any stretch
Roasted or Stewed Beef Chunks – we didn't eat any
Mahi Mahi baked with capers – good, not dried out or overcooked (pretty amazing if they had cooked the food at Epcot and trucked it over)
Green Salad – very good, we both had seconds of this
Heirloom Tomatoes with Rocket and Balsamic Vinegar – very good, we both had seconds of this too
French Bread or some sort of Baguette – good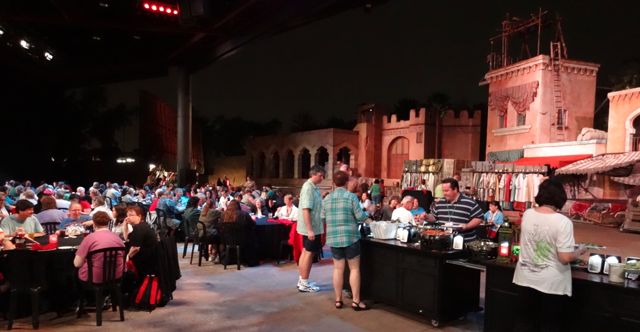 There was beer and wine! Next to the "bar" was the Dessert Buffet…
Chocolate Eclairs – we didn't eat any
Apple Cobbler with Vanilla Sauce – very similar to the Warm Brownie the night before, this really needed cinnamon & vanilla to give it some body
Red Velvet Cupcakes – these were very good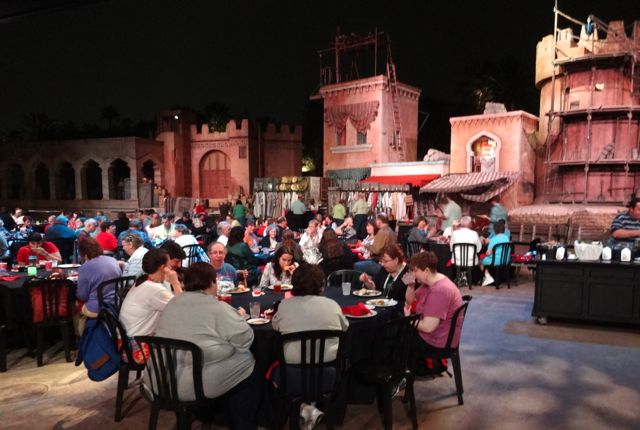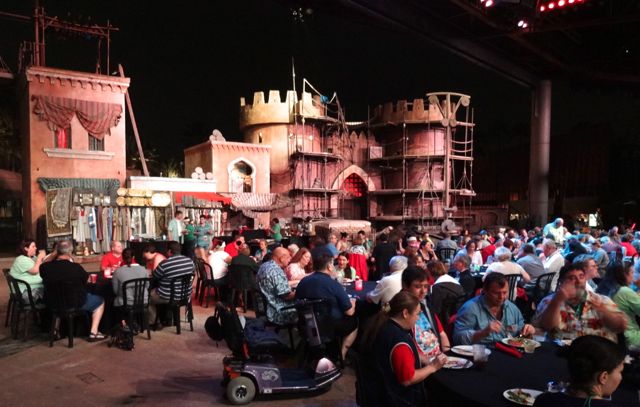 As we were winding down over dessert, John Phalen, Show Director for the Osborne Family Spectacle of Dancing Lights came and talked to us about the light display. Bad news, it was still raining and that affects the display (80 to 85% were working). This had been the second event that we were most looking forward to, it was raining, it was chilly, and nora was grumpy. Of course, we could still see the lights (they were handing out rain ponchos for us to use)…
So what did John Phalen have to tell us about the Osborne Family Spectacle of Dancing Lights?
Every year, Jennings Osborne's Family comes for a special lighting ceremony – this year, they expected Breezy to come with her new daughter
Why do the lights "fault" in the rain? Because there are 1400 dimmer circuits, each attached to ground-fault-interrupt & when they get wet, they don't work too good
There are 8 songs that the lights "dance to" (we thought we'd heard somewhere that there were 10)… Dan Stanford, Music at Disney, created an original arrangement of Winter Wonderland for 2012 (we saw it and it was spectacular!)
Oh, John Phalen is the man who actually called Jennings Osborne to tell him that Disney World was interested in his lights
All of the strands of lights are 100 LEDs and they're put up by hand every year
There are 67 Hidden Mickeys this year in the Osborne Family Spectacle of Dancing Lights display
How do they choreograph the whole shebang? They use a computer simulation and programming system in a light lab. It takes 2 weeks in the lab to get it all going, then another 2 weeks on the streets in Disney's Hollywood Studios to get the lights and songs sequenced correctly
Our Departure…
We were also given the option of leaving Disney's Hollywood Studios without seeing the Osborne Family Spectacle of Dancing Lights, we weren't to be escorted out. Have we mentioned that this was well after the theme park closed for the night? So, as soon as we could we walked to the front of the park to leave. Ummm, did you know that there are huge metal gates that are closed over the "ticket stands?" That clearly means we couldn't just leave. Luckily we had seen some cast members going into the Guest Services building, it took a little while to get them to understand who we were and why we were still in the theme park (geesh, communication! people!). By that time, there were more D23 guests waiting to leave.
Interesting… Frustrating… Poor coordination for sure…