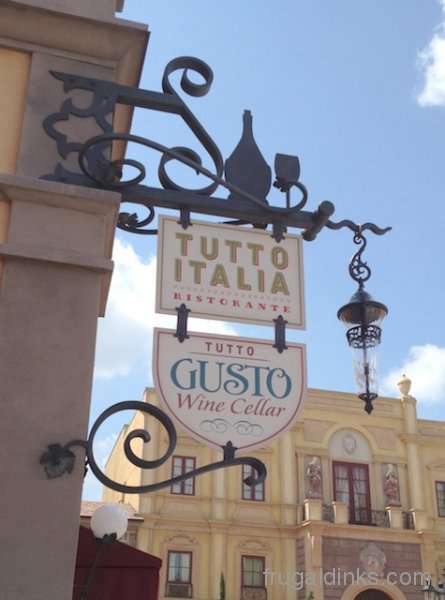 Last week, while Harry & Sandy were visiting, we met up with some other WDW friends (including Walter) and toured Epcot. The day before our tour, Tutto Gusto had opened in Italy. We stopped in for a few beers (nick had the Blue Point Toasted Lager and nora had the Moretti La Rossa). It was a quick visit, but enough to let us know that we'd want to stop in again.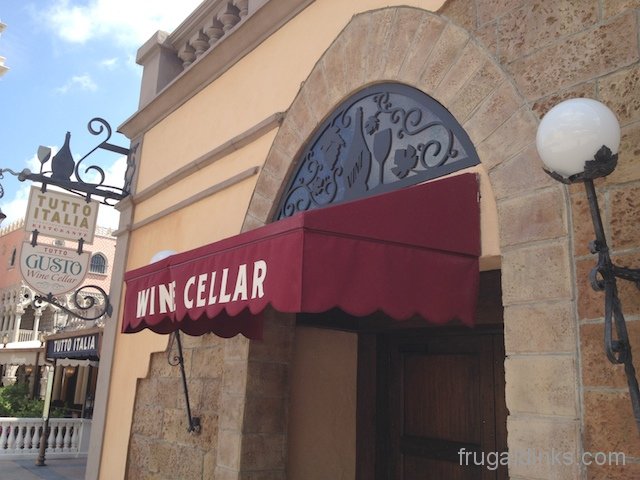 This week, we were by ourselves and had a chance to spend more time taking photos and checking out the menu for this nice little venue (think La Cava de Tequila, but a bit larger and with more outgoing staff).
The full menu is posted outside of the entrance to Tutto Italia (on the right post)…
Nick was able to get some interior photos before the Wine Cellar opened at 11:30.
At 11:30, it was time to eat and drink! First off, hopefully it isn't because Tutto Gusto is newly opened, the staff was excellent. Very welcoming and warm! Our server was Federica, but that didn't mean that everyone else ignored us. They were all very attentive and friendly.
The beverage "list" is more like a full book! Nick noted 4 (yes, that FOUR) varieties of lemoncello on the menu and an artichoke liquer that we're going to need to try in the future. There are many wines offered by the glass, so nora decided to step outside the "beer comfort zone" and have a glass of wine (although there are many wines offered by the glass, they weren't all available during our visit). She was looking for a medium body white wine and one caught her eye, but it's been a LONG time since Italian classes and she was afraid of mispronouncing it; her second choice wasn't available and Federica recommended the Tocai Fruilano (nora's first choice with the difficult name!). Nick decided to give the Blue Point Toasted Lager another try (he hadn't been very impressed last week) – he prefers lagers and was hoping that pairing it with food would improve the flavor.
Both of us liked the wine, even without food! Nick said that it was a wine that he can drink. It was grassy and crisp, not too light – very good for a hot Florida day. Nick's beer was larger than the to-go version last week. Both of us were pleased with the pairings with food. Oh, you want to know what we had to eat?
We went with a trio plate. We had the salametto, the parmigiano reggiano, and the robiola.
The salametto is a sliced sausage, the description led us to expect something more along the lines of the little sausages from La Hacienda. The flavor and aroma of these was excellent. Paired particularly well with the wine and added to the enjoyment of the lager.
(hint to Disney… Please put those lovely little sausages and peppers at La Cava de Tequila. Generally, just add some more appetizers to La Cava de Tequila)
The parmigiano was also excellent, finely crumbly. Nicely salty. Again, a very good pairing.
The robiola was entirely new to us. It was similar to a brie, especially in terms of creaminess and texture, but it didn't have the strong funkiness that comes from the brie rind. The finish was very smooth and fruity. This didn't pair particularly well with the wine or the lager, it needed something sweeter to bring out the flavors.
The focaccia – it was a bit tough for nora. If it had been more cracker-like, it would have been easier for her to eat. We're thinking that on our next visit, we'll ask for a different bread.
And yes! We will be going back for many more visits! This place is certainly a hit with us, and we think that for our friends who don't like tequila and/or mexican food OR who really like wine, this will be a must-visit too. We enjoyed ourselves thoroughly and are hoping to visit again next week. With all the variety of foodstuffs and the variety of adult beverages to use in pairings, this will be entertaining for quite a while.  … one last daydream, please oh please, have a special event during the Food & Wine Festival (luncheon event not a huge overblown dinner).
That's it. If you'd like to see some reviews from opening day… The Disney Food Blog has a post here and Eating WDW has a post here.
Note: the wine and the lager were $9 each, the trio plate is $14, and Tutto Gusto takes Tables in Wonderland