The Osborne Family Spectacle of Dancing Lights at Disney's Hollywood Studios is one of our favorite things to see at Walt Disney World during the holidays. We have been quite busy with our other businesses so we have not had much time to enjoy the holiday events at Walt Disney World. We have however made time to go see the Osborne Lights.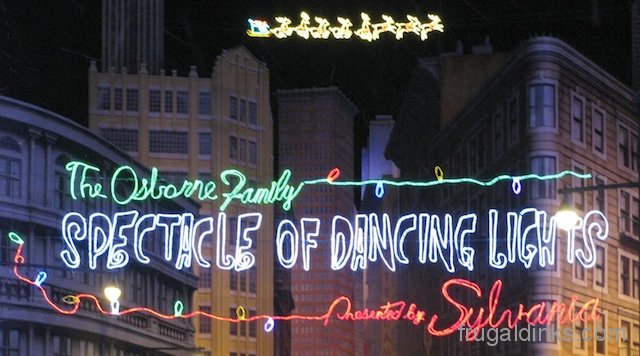 Of course the lights fill the streets of America every year.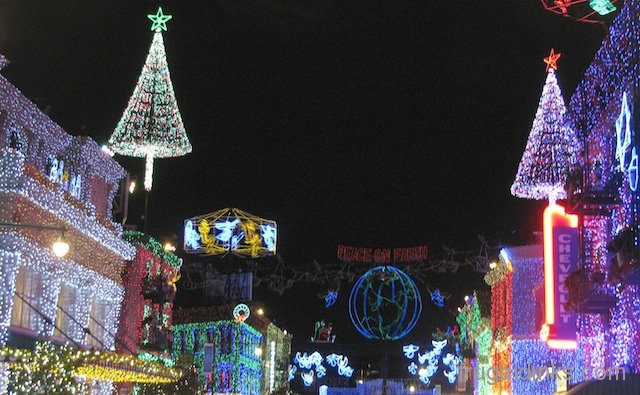 The lights are incredible.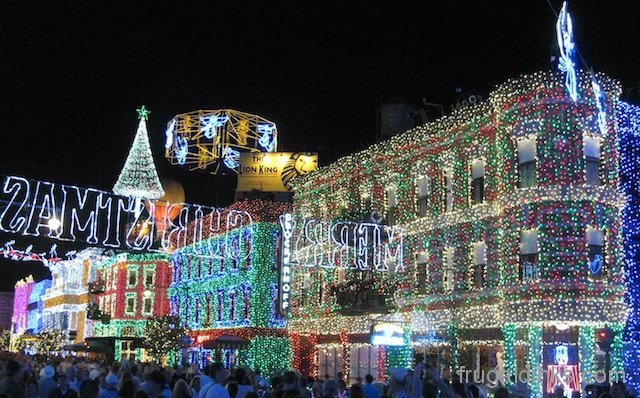 The streets of America are decorated with over 5 million lights.
Can you imagine what the electric bill must be?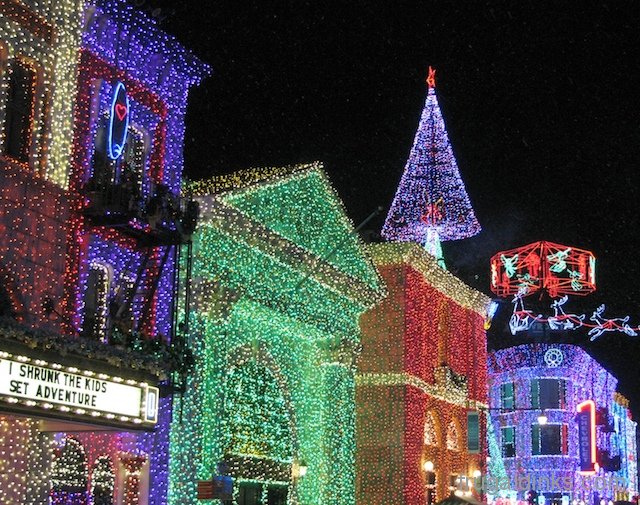 It is almost overwhelming…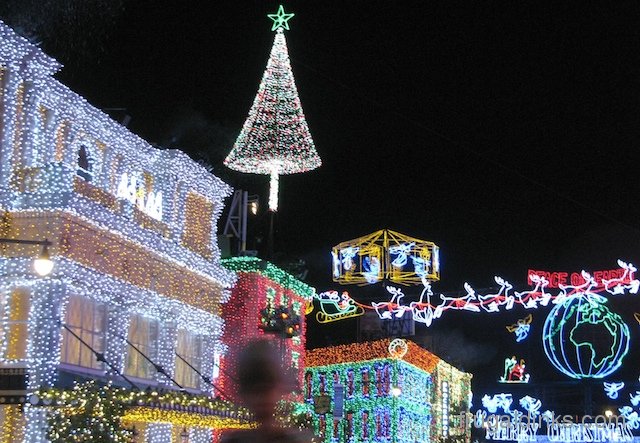 Of course you always see Santa in his sleigh.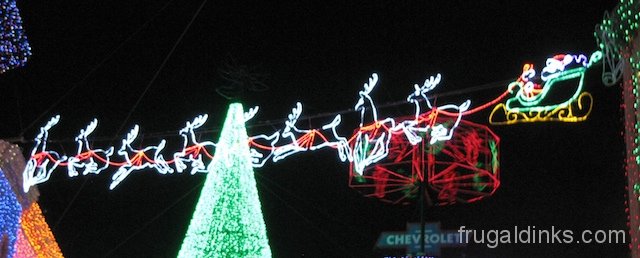 Have you been good this year?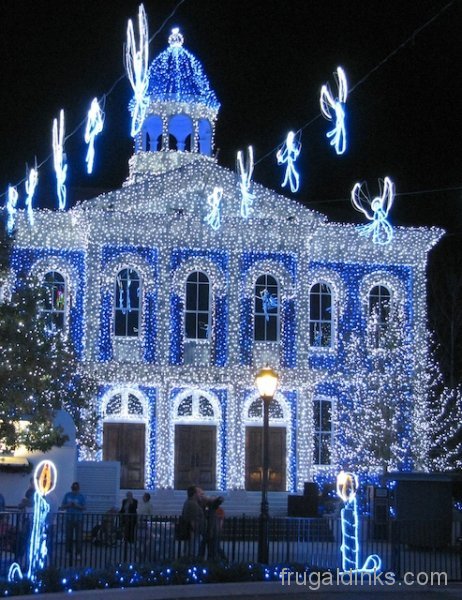 The Osborne Family did incorporate religious decorations as well.
The music just adds to the wonder that you experience.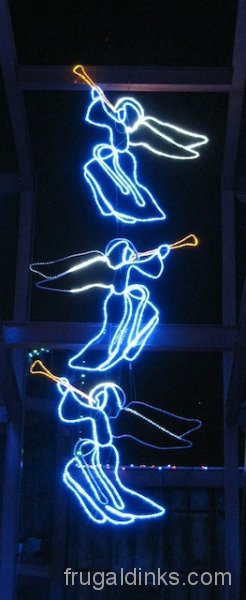 You will always find many common items decorated.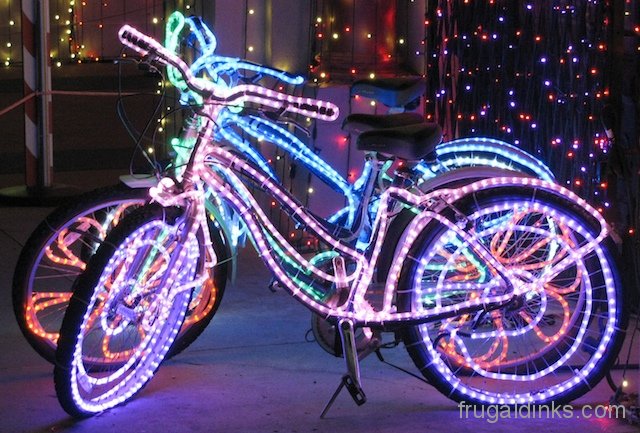 But why are the tires on the bikes flat?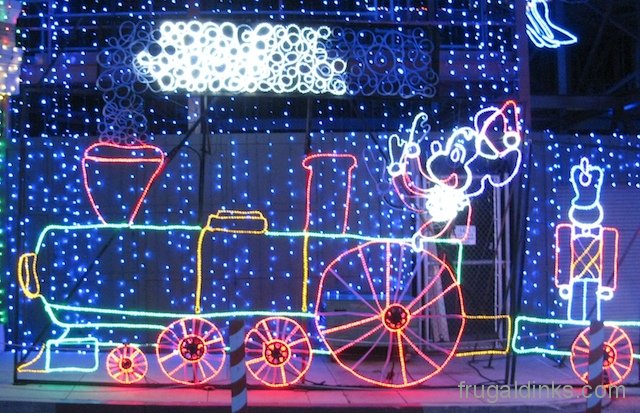 Of course Mickey is featured in many displays.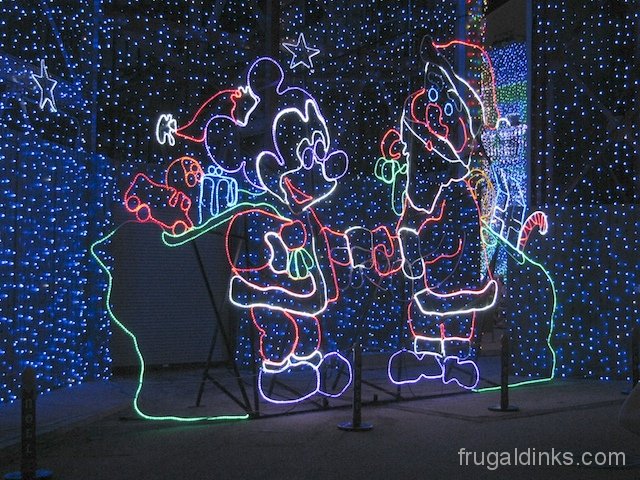 Santa is in full force too.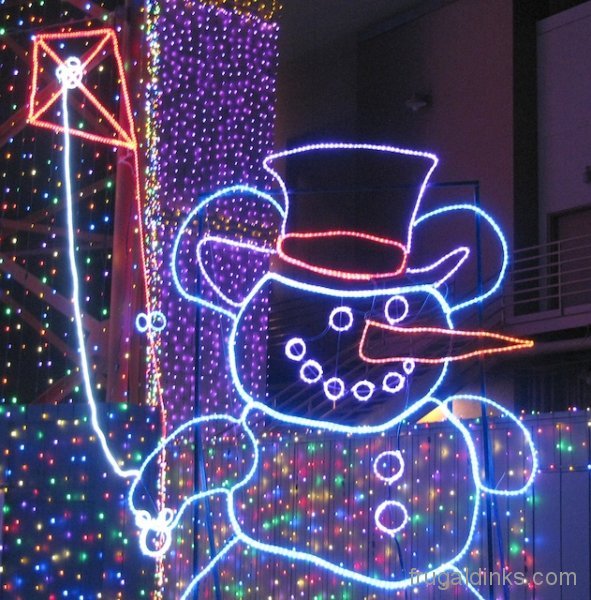 You will see Mickey ears on snowmen…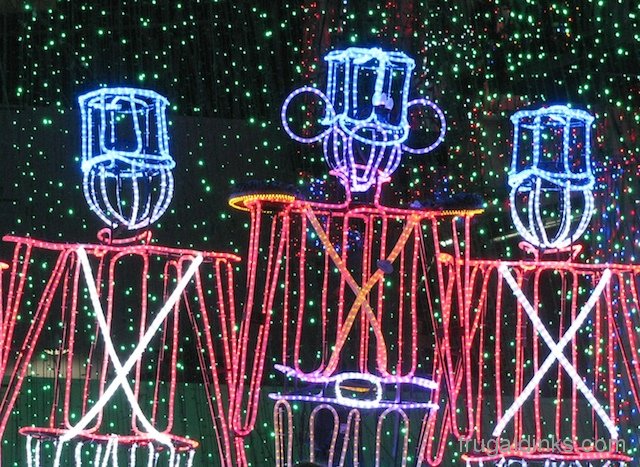 …and Mickey ears on Toy Soldiers.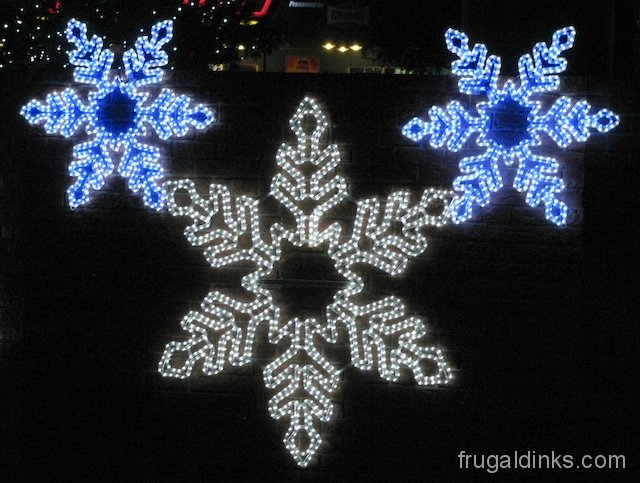 Decorative and hidden Mickey's are everywhere.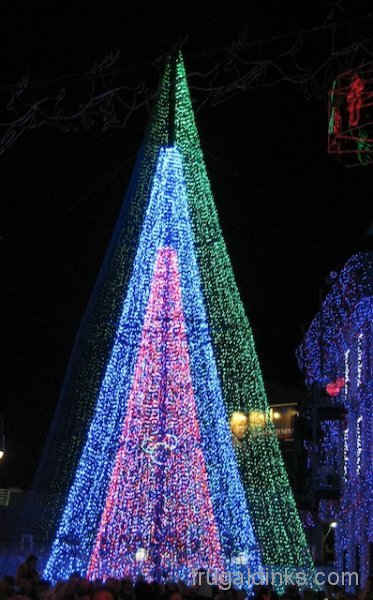 Some Mickey heads are only visible at certain times.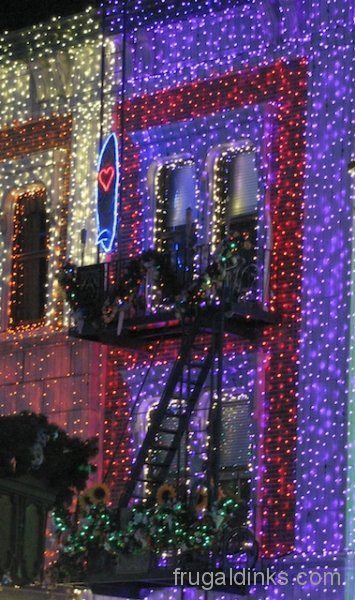 You could spend several nights just looking at the theming on all the balconies – each is unique.
Each year the imagineers add a new feature, sometimes small and sometimes big. This year the canopy of lights was completely updated. The canopy now has over 21,000 color changing LED lights. This design is like a computer display and thus is capable of producing over 16 MILLION different colors!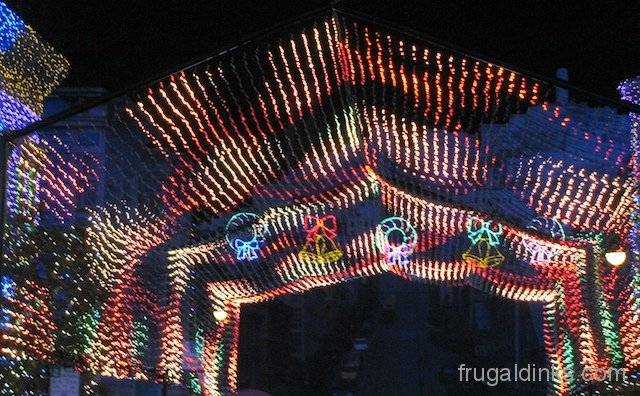 The canopy was amazing.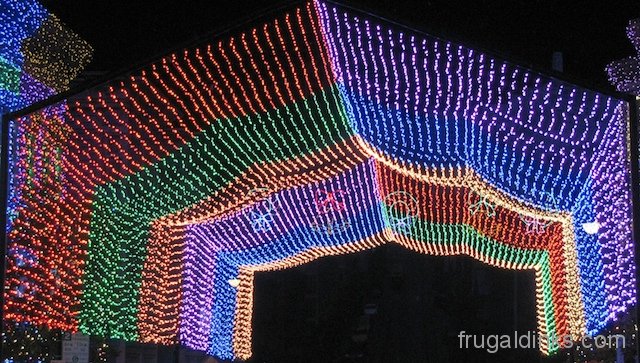 Even if you think you've "been there, done that" this change to the Osborne Family Spectacle of Dancing Lights warrants a return visit.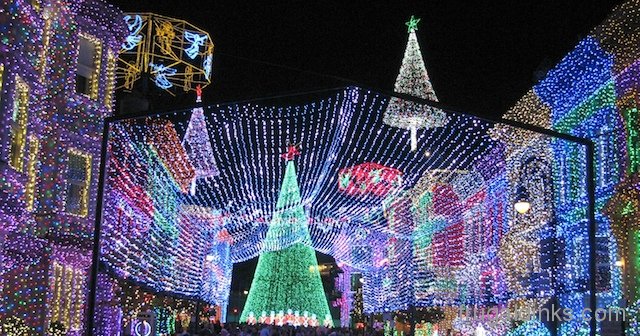 The excepted story is that when the many semis picked up all these displays from the Osborne's one halloween decoration was mixed in. Each year this decoration, a cat, is hidden somewhere amongst the millions of lights. It is always fun to try to find it. This year it is quite well hidden.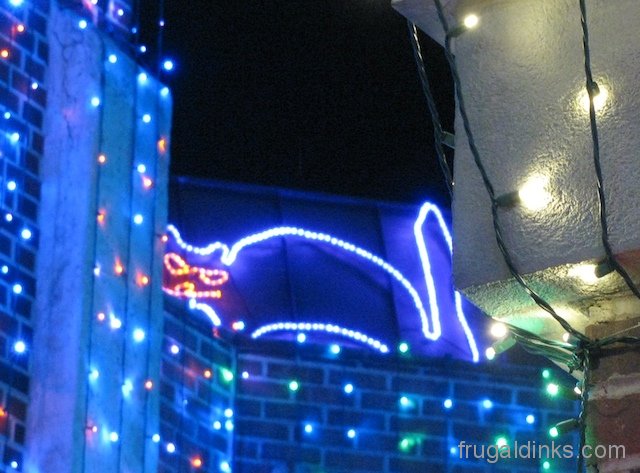 The Osborne family is recognized in several ways throughout the display. Here the family's stockings (with names) are hung.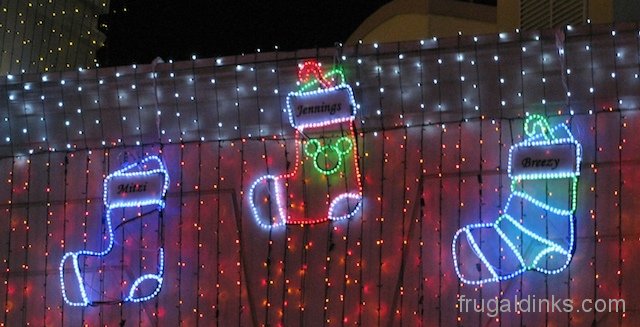 We don't keep detailed notes but this year we saw a decoration we don't recall. The Osborne's are from Arkansa and we spotted a "razorback" amongst the displays.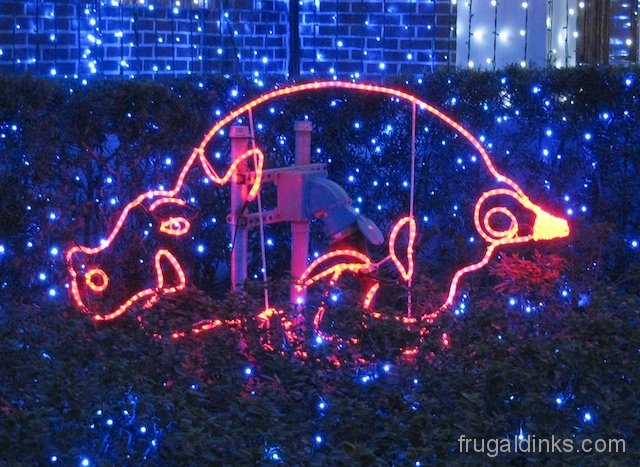 Finally, in case you didn't know, it snows every night. It is hard to see in the photo but it is snowing! Couple this with the lights, the holiday treats, the wonderful music and if you can share it all with friends (as we did – thanks Kate and Calvin!) – you have a wonderful night!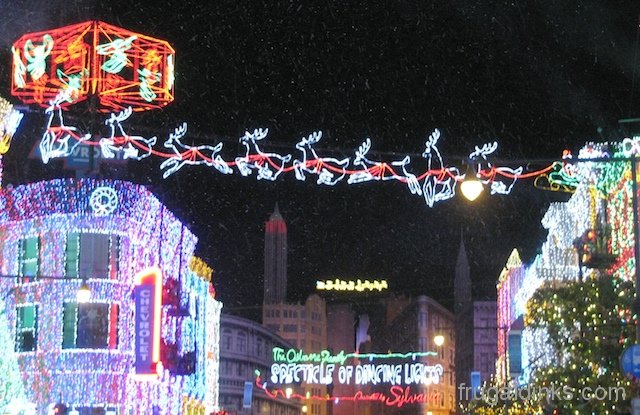 We hope to see the lights at least one more time this year. However we have promised ourselves that we will go earlier and more often in 2012. The Osborne family Spectacle of Dancing Lights always brings smiles, laughs, fun and a feeling for the season!
nick