Belvedere Vodka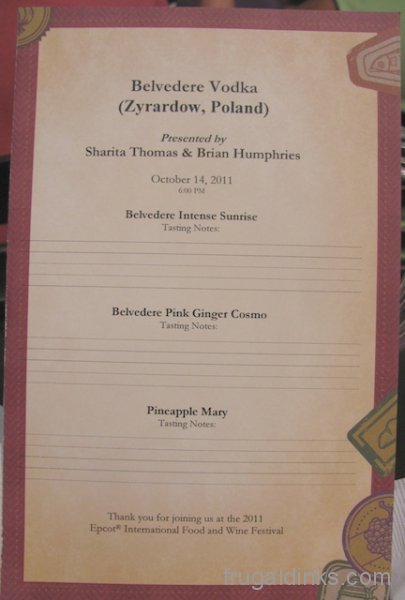 The seating for this Mixology "class" began shortly before 6:00, and we were toward the end of the waiting queue (we had taken a short break between a culinary demonstration and this mixology class; we stopped to get some pretzels and a cheese plate). There was some discussion amongst the cast members and guests about how many people the class space could hold, we believe that we overheard 80-some, and every single seat was taken. We were able to get a table for two in the back right (yeah! we get a whole basket of crackers, all 6 of them, for ourselves), there was a single cocktail glass on the table.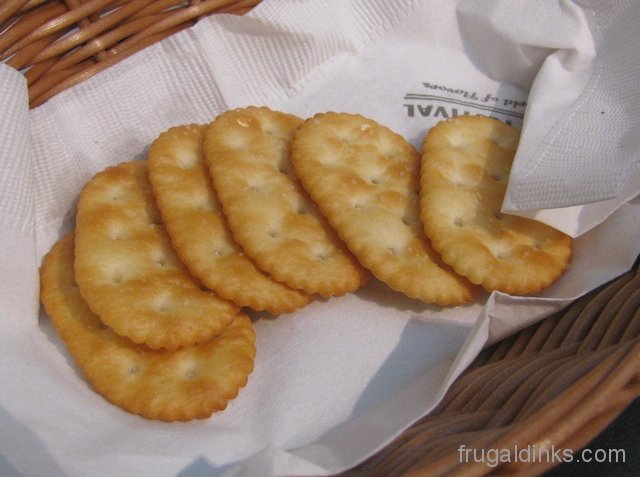 Dianne (presenter from WDW) began the class by pointing out that this was the last session in the beverage seminar room for today and it was time to get the party started… unfortunately, the two people on stage did not have the personality or energy of our mixology presenters last week… there was no "party" going on.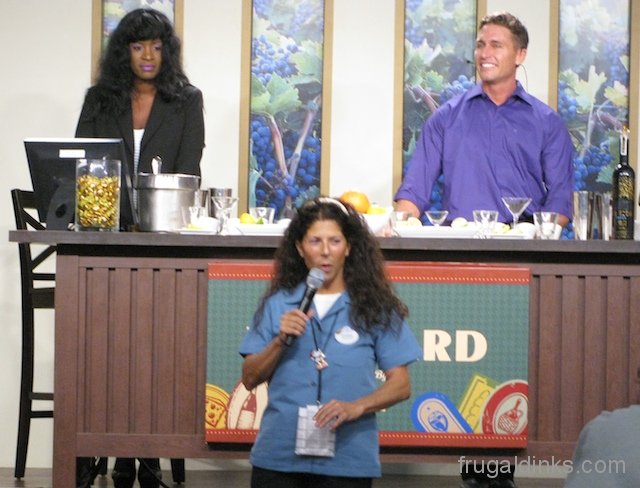 Sharita was clearly in SALES. Her slides were horrible (nora would have flunked her presentation when she taught technical communications), too much text, too tiny, not suited for the room size, and she READ the slides. Well, maybe that was a benefit because we surely could not read them from the back of the "room."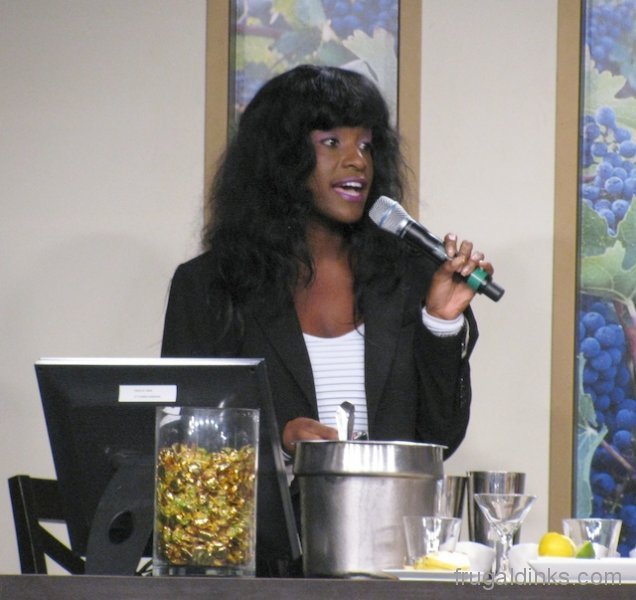 Brian was more engaging, but unlike last week, there was no introduction of his qualifications or his "pedigree" in mixology. He did his best to get the audience engaged, and it may have been that some of the audience was engaged and it just wasn't working for us.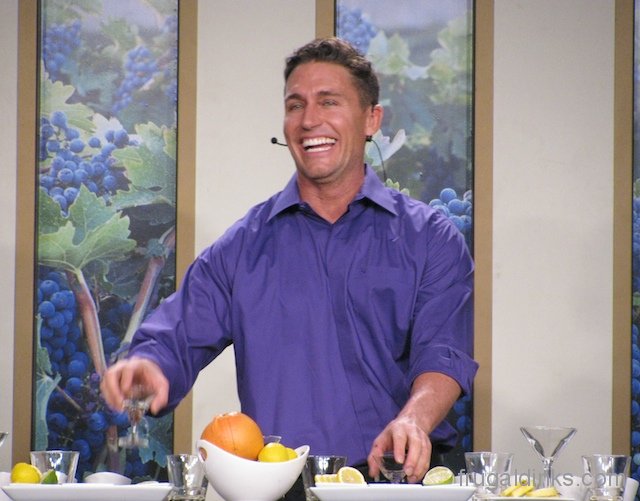 As we were getting settled for the class to begin, nora suddenly remembered "didn't we do Belvedere last year? wasn't it pretty abyssmal?" Uh, yeah (see here).
Here are the basics of Belvedere Vodka
1st premium vodka sold in the US (1994)
polish vodka – nothing extra, just water and grain
very natural, the purity of vodka was repeatedly stressed – nora wonders if that means that other spirits aren't "pure" or "natural" and thus "poisonous" or "toxic" beyond the usual negative effects of too much alcohol? frankly, it was annoying; clearly a marketing talking-point
the flavored Belvederes are made by macerating fruit, fruit peels, herbs, and spices in unflavored Belvedere
again, there were claims about the calorie count of vodka; nick's fact-checking last year showed that vodka isn't as low-calorie as the presenters (last year and this year) believe that it is
Okay, let's get back to the cocktail glass that was waiting on the table – it contains Belvedere Intense Unfiltered, served neat. This vodka is made from Dankowskie Diamond Rye, the other Belvederes are made from Dankowskie Gold Rye.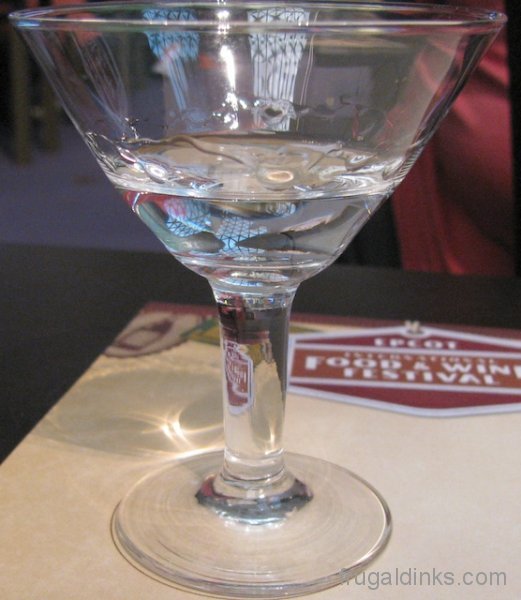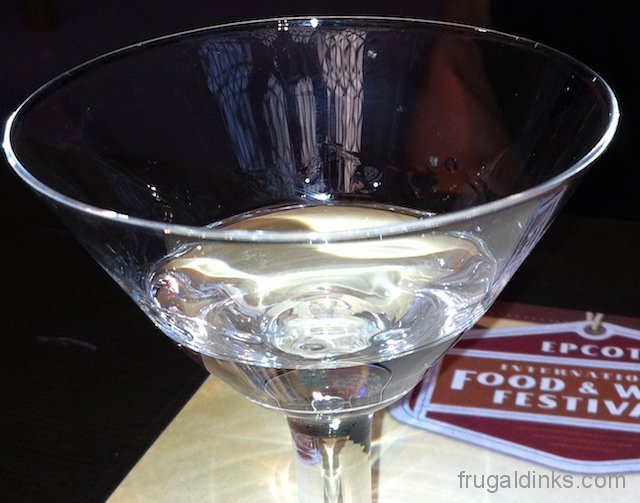 Tasting Notes for Intense Unfiltered:
nick says: raw alcohol smell, but is it tasteless and flavorless? last year we were told that vodka is tasteless, flavorless, innocuous spirit… pretty much tasteless and flavorless, why are we drinking this neat?
nora says: well, it's okay, has nice legs on the sides of the glass & it's very clean on the tongue, but honestly, I have to agree with nick, there isn't much flavor here; why are we drinking this neat? to get a quick buzz? to prove how "pure" it is?
Belvedere Intense Sunrise
The second cocktails were brought out. This is in the tradition of a "sunrise," typically made with vodka, orange juice, and a float of grenadine; but this one doesn't have grenadine because that's very artificial. Brian brought a guest up to the podium to help with the first drink. Barbara was a hoot! Brian was saying how Disney pours tend to be very exactly short, when he handed the vodka bottle to Barbara, she took the pour spout out and just poured in what SHE wanted.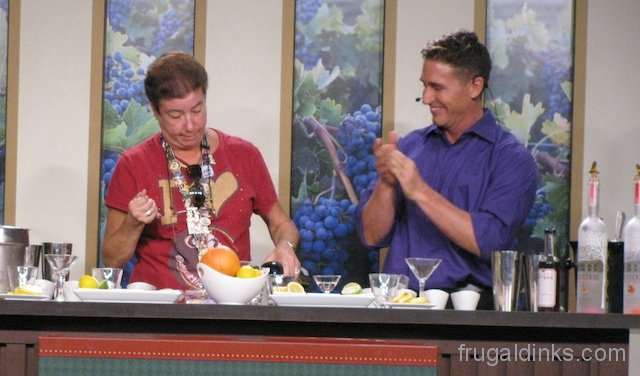 2 ounces Belvedere Intense
2 ounces of Orange Juice
2 ounces Cranberry Juice (instead of the grenadine)
mix vodka and orange juice with ice
pour, while straining, over ice in a rocks glass
float cranberry juice (this means that you pour in slowly) and garnish with lime wedge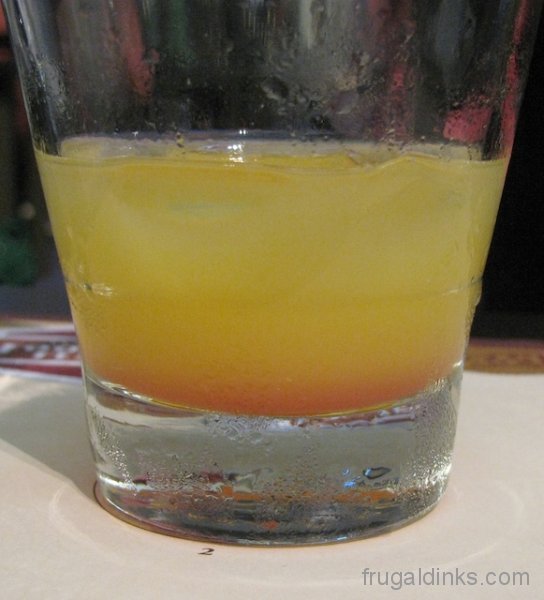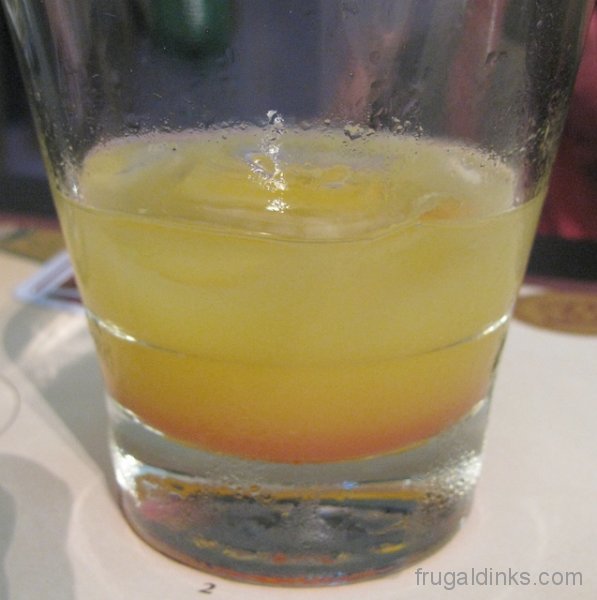 Tasting Notes for Belvedere Intense Sunrise:
nick says: orange juice did not taste fresh, plus the drink separated due to ice; no way this was mixed 2/2/2; barely any cranberry; why use an expensive vodka with orange juice? really?
nora says: to start with I'm not fond of orange juice, I guess it's okay but not something I'd order; can't even tell there's any vodka in there; aroma = nothing but canned orange juice, no cranberry; yuck; didn't finish
nora thinks: I think of TEQUILA sunrises when I think of any cocktail titled "sunrise;" not vodka sunrise – good reason, a vodka sunrise is pretty much flavorless & really it's a screwdriver with a bit of cranberry juice
Belvedere Pink Ginger Cosmo
Pink Grapefruit is Belvedere's number one selling vodka; whole pink grapefruit from Argentina, lemon and ginger are macerated in vodka to produce this flavored vodka. We're told that the flavors are "creamy," really? We'd think that something with citrus and ginger would be "spicy" or "active" on the tongue, not "creamy"…
When these cocktails are delivered to our table, they're in much better shape because NO ICE! Ours look very different than the ones that Brian and Tom (another guest) made on the stage, theirs are very milky or opaque because of vigorous shaking on ice… ours are clear.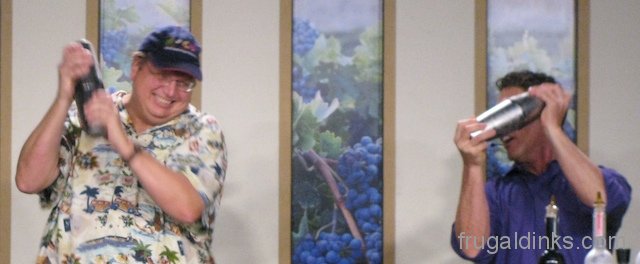 Tip: always chill your glass before pouring a cocktail served without ice – put ice and cold water in the glass while mixing the drinks
1 1/2 ounces Belvedere Pink Grapefruit
1/4 ounce Canton Ginger Liqueur (available at most alcoholic beverage stores)
1/4 ounce Lime Juice
1/2 ounce Cranberry Juice
mix all ingredients in shaker  – you'll know that you've shaken enough when the metal shaker gets a bit frosty
stain into a chilled martini glass
garnish with a pink grapefruit peel twist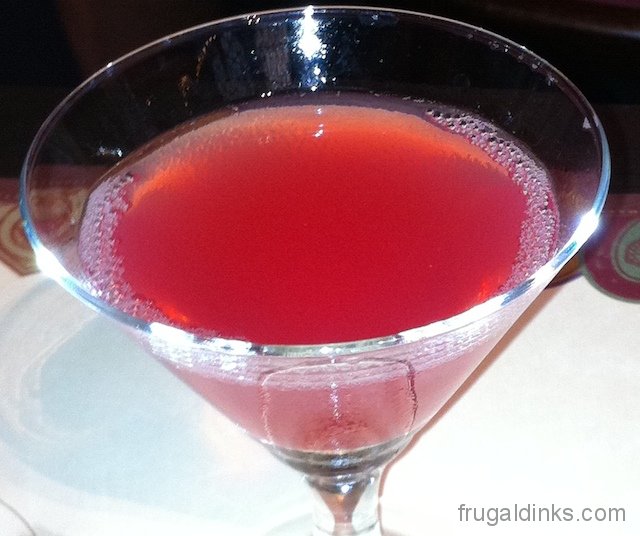 Tasting Notes for Belvedere Pink Ginger Cosmo:
nick says: actually has enough ginger! it has some spice; even taste some lime juice, why? it is not fresh; it must be lime juice concentrate; ginger and lime are so strong that there isn't a hint of cranberry
nora says: aroma is very pleasing, can get scents of citrus and ginger; very tart; no alcohol on the back of the tongue
Pineapple Mary
This is made with a new vodka – Belvedere Bloody Mary – this vodka has black pepper, chile pepper, bell pepper, celery, tomato, horseradish, and lemon macerated in it.
Two guests raced to the stage to help demonstrate this cocktail (Mary from Orlando and Megan from Tampa)… again nothing complicated.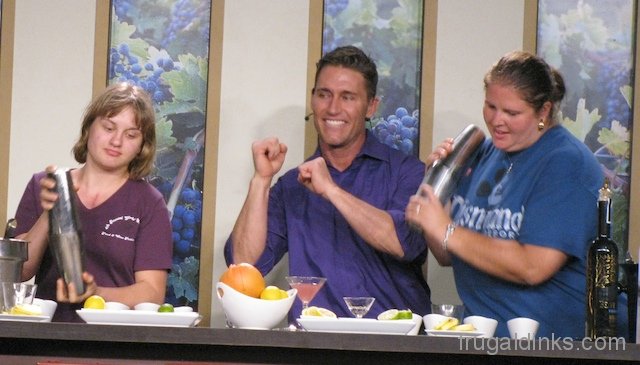 1 1/2 ounces Belvedere Bloody Mary
3 ounces fresh pineapple juice
3/4 ounces fresh lime juice
2 bar spoons of simple syrup
1/8 bar spoon smoked paprika (hot)
mix all ingredients in shaker
pour over ice into a chilled rocks glass
garnish with a lime wedge or pineapple wedge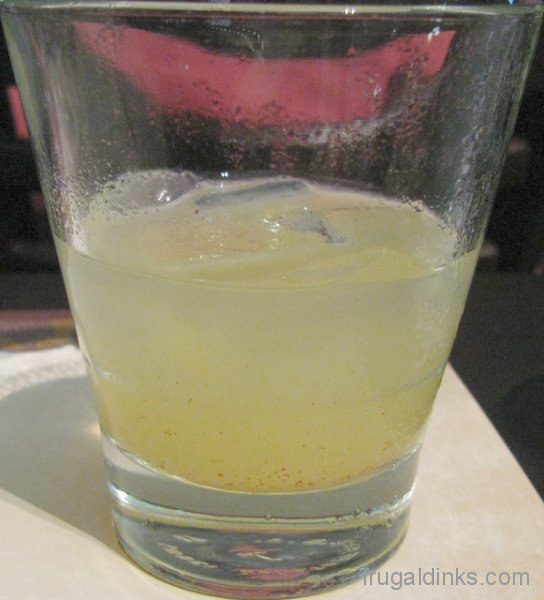 Tasting Notes for Pineapple Mary:
nick and nora say: another separated drink; fake lime juice; canned pineapple juice; fresh pineapple juice wouldn't have such cloying sweetness or a "tinned" flavor; no hint of heat from the paprika; just another over sweet cocktail (perhaps a salted rim would help?)
This was disappointing.  There must be a better way to get drinks delivered before they are so separated?  Brian specifically picked up a can of pineapple juice and said, "This is what Disney uses".  Yes, we know that at all the bars Disney are cheap, cheap, cheap; BUT why at a mixology seminar?  The demo is with fresh juice – why don't we get to taste the drink the way it is "supposed" to be made?  Brian was clear that our drinks were not what he made. At least he was honest. But I'm still shaking my head…I can see using a very short pour of liquor (liability) but no fresh juices and no garnishes?  Come on man (or make that Mickey)…
nora & nick