Causeway Food – Friday Night
This year, in contrast to last year, the "causeway" actually went down the side of the Swan next to the lake. It seems as though the popularity of the event, both from vendors and from guests, created the need for more space and more booths.
There was a lot more resort staff and security on the causeway than last year. The weather was very unpromising, we thought that perhaps it would be moved inside. The event started outside, however about 7:30 it began to blow and pour rain… by 8:00 everything was covered. By the time the rain began to pass, it was too late to get the event up and running again. We had an early night.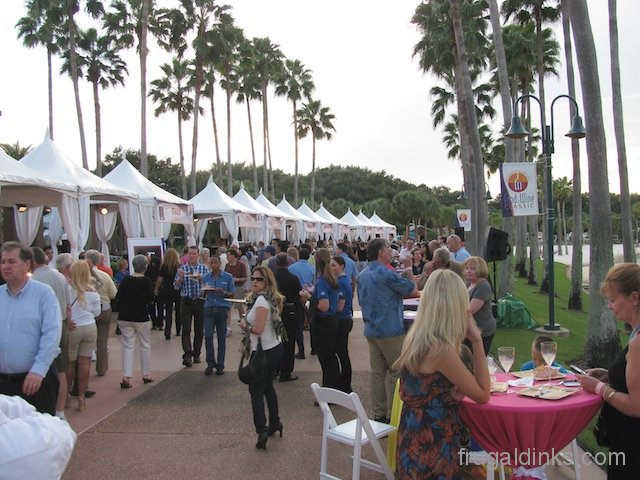 Meatball Sub, Il Mulino New York Trattoria
The meatballs were good, not dry, however, not overly flavorful either. The sauce was good, nothing off-putting, but nothing exceptional either. It was clearly fresh and the bread was soft. However, this combined with our experience at Il Mulino last year, we're not in any rush to go there again.
Brooklyn Lager
This was VERY hoppy, more like an IPA than a lager to our tastes. Frankly, it was a little "ick" and we didn't go back for another.
Moonshine Cocktail
Well, we had to try this since we're from the Carolinas and we've had the real moonshine. The cocktail was pretty good, but in the interest of avoiding sugar and excess carbs, we didn't go back for another.
TyKu Cocktail
Now, keep in mind that we like TyKu sake… Nick tried the cocktail and said it was "less than stellar," it wasn't bad but…
Crab Cake, Garden Grove
Nick felt as though there weren't a lot of flavors, perhaps it was just all muted and mushed together. Nora skipped the roll, the crab cake itself was good but there was a lot of bready filler, thankfully no celery or green peppers. The saltiness from the pickle and from the sauce gave the majority of the flavor.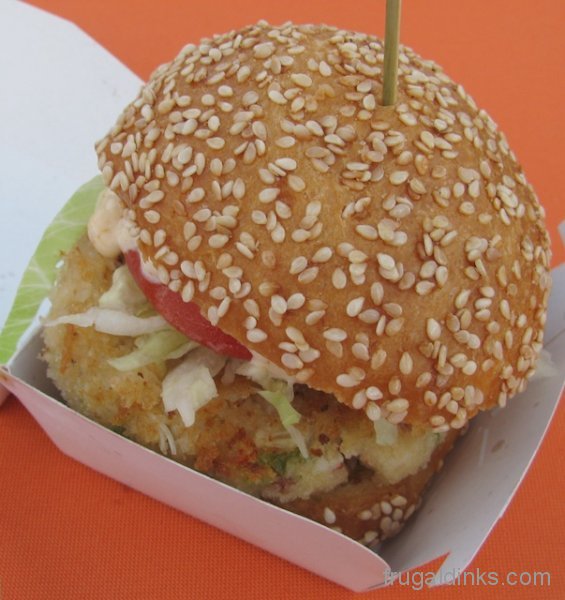 Sushi, Kimonos
This was the item we ate the most of – we each had 8 pieces of this sushi. Nick noted that the rolls were nice and tight, a feature of good sushi that is sometimes lacking. Nora noted that it was good sushi, nothing really amazing or outstanding but good. It reminded us that we really need to go back to Kimonos, it's been years since we went there to eat.
 Pulled Pork Sandwich, Cib's Smoke Shop
"Carolina Style Pulled Pork, Southern Coleslaw, Parker House Roll, Fried Pickles, Ranch sauce"
Now, you probably know that we're from North Carolina and you probably know that Nick's family has a tradition of fabulous pulled pork cooked eastern North Carolina style. This wasn't that at all. If anything it was more like some western NC pulled pork or SC pulled pork. There was a sweeter sauce on the pork, even so, we'd classify it as a bit dry. And frankly, good pulled pork sure as heck doesn't need ranch dressing on it (okay, on further thought, maybe the ranch dressing is for the fried pickles). This was an "eh," Nora would eat it if there wasn't something better around.
Desserts
A bit of a story with this — when the rain began to let up, we left the Dolphin where we'd taken refuge along with a lot of other, very noisy people, and headed over to the Swan. Along the way, we hoped to be able to get some desserts to eat while we waited for our taxi. The desserts had been put in a refrigerator and they were still able to serve them to us, but they did seem a bit unengaged and reluctant to do so.
Nick had this dessert, Nora didn't taste it. Nick's verdict – eh, probably not worth the calories.
Again, this was Nick's. First bite, he liked the flavors; second bite, the berry compote tasted "like canned, over sweetened berries all mashed up." Nora had one taste and it was only okay.
This was Nora's choice. Macaroons are really popular right now; nope these aren't those horrible coconut cookies that we call macaroons. They're cookies made with almond flour and meringue. This was good enough that Nora had it again on Saturday night, the cookie part retained it's crispy chewiness but the lime cream was very difficult to detect.
Nora's choice and we both tasted. Nora thought that it was a good chocolate cake, mostly because there was a lot of very dark chocolate flavor and because it wasn't dry. Nick wasn't really impressed.