Thatcher's Cordials, Cruzan Rum & Sauza Tequila
This is the first year for mixology seminars and it was a nice touch to include the recipes – like they do with the culinary demonstrations.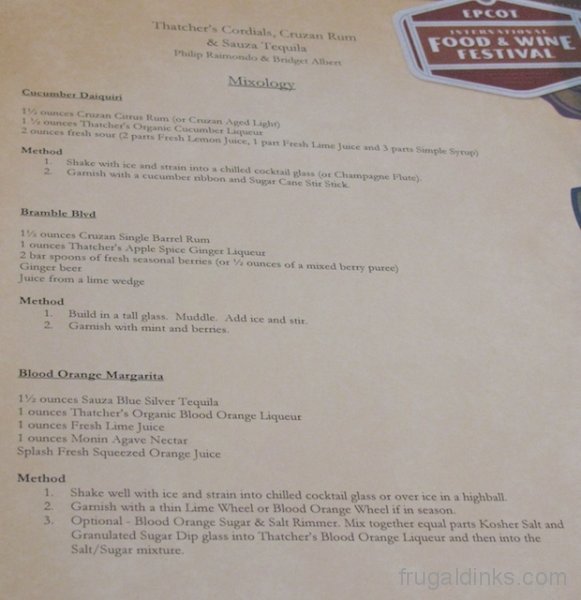 The F&W Cast Members began putting the first drinks out at 6:00. The seating began at 6:03. The seminar began at 6:09. Drinks were staged so that they'd be at their best (in other words, drink #1 was there when we sat down, then drink #2 was brought out during the seminar, and finally drink #3 was brought out last).
But the drinks were made way ahead of time.  Nick took the below photo of a tray full of the second drinks before the presenter even started.  That was bad as the second drink had ice in it and by the time we got them, well – the drink had "separated".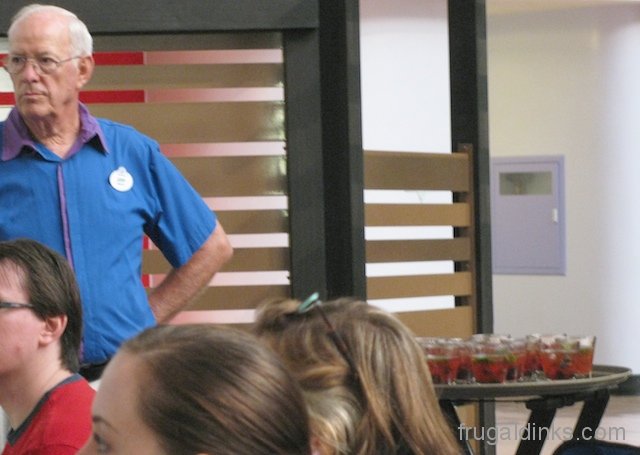 Distillery Representative: Dave Resico (sorry if the spelling is wrong) – introduced the presenters; Thatcher's Organic Liqueur (his company); c 2008, "environmentally conscious company", located in Temperance, Michigan (get the pun?)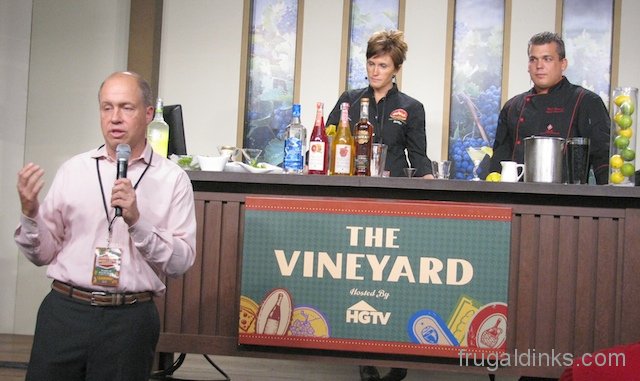 Thatcher's is an artisan distillery. When Dave started it, it took 13 months and 2700 batches before they came up with something good. Thatcher's uses a single column still. For example, with the cucumber liqueur, the distill cucumbers to get the alcohol, then that alcohol is drizzled through mash trays for 15 days (the cucumber mash is changed daily), this creates the strong cucumber flavors.

When Dave started Thatcher's, his first target was elderflower liqueur. There are only 3 farms in the world that organically grow elderflowers for making liqueur. Two of these already have markets for all that they produce, so he "courted" the third farm (they were more fluid in who they supplied). After a lot of negotiation, he was able to travel to that farm in France, knowing ahead of time that he had to really woo the farmer and that the farmer had his own particular method for judging if he wanted to deal with distillers. When he arrived at the farm, the farmer opened the front door and was dressed like Bozo the Clown (literally); the farmer took him out to see the farm operation, not a single worker batted an eye at the boss being dressed up like a clown. The farm was planted east to west with a covered central area for processing and for the workers to have lunch… this way the workers could do half the harvest before lunch, stop and have lunch, then do the other half of the harvest (it's important to pick the elderflowers at a particular point of openness which is determined by when the sun strikes the plants. The harvest occurs for only 6 weeks per year.
Mixologists: Philip Raimondo (Beam Global Spirits) & Bridget Albert (mixology association)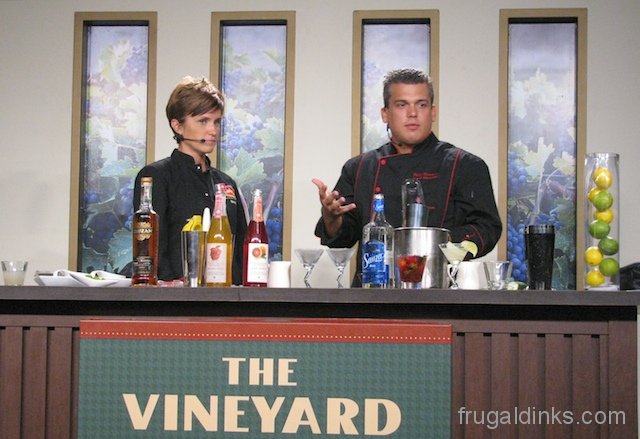 The bartenders/mixologists were VERY entertaining. They taste their creations ALL THE TIME (new job for Nora!)

Suggestions: use fresh herbs in your cocktails; "make a funky party in your glass" (Bridget); you need to spank your herbs (before you put them into your cocktails, even as a garnish — okay this needs translation, you need to slap it in your hands so that the essential oils are expressed, Philip went out into the audience and offered mint leaves as a personal garnish to the Bramble Bird)

You can trademark a drink name, but not the recipe.

The mixologists work with chain restaurants such as Chili's, Outback Steakhouse, etc…

Bridget shared a toast… "cocktails are like a kiss, best when shared"
Drink #1: Cucumber Daiquiri
1 1/2 ounces Cruzan Citrus Rum (0r Cruzan Aged Light)
1 1/2 ounces Thatcher's Organic Cucumber Liqueur
2 ounces fresh sour (2 parts fresh lemon juice, 1 part fresh lime juice and 3 parts simple syrup
Shake with ice and strain into a chilled cocktail glass (or Champagne Flute)
Garnish with a cucumber ribbon and Sugar Cane Stir Stick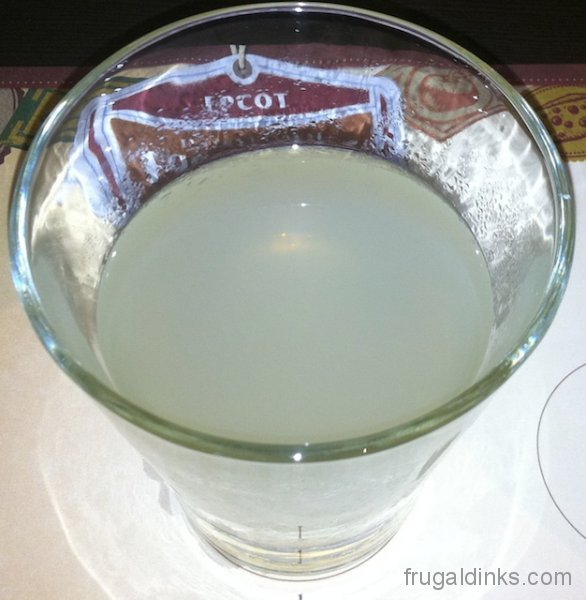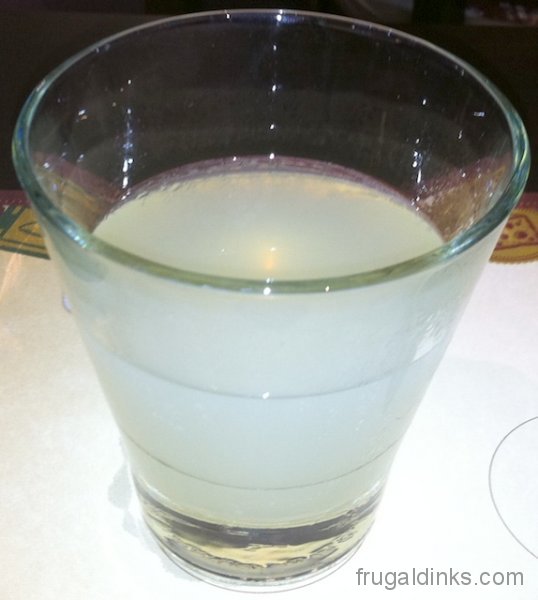 Tasting Notes:
nora's thoughts:  this was a very good daiquiri, I'd prefer a less sweet cocktail.
nick's thoughts: nice tartness = good flavor, but I'd go lighter on the simple syrup a bit; tasted again at the very end, this was the best cocktail, great balance of flavors
Thatcher's Cucumber Liqueur – the cucumbers come from California and Benton Harbor, Michigan (nora's been to Benton Harbor many times for work-related things)

Dave said that cucumbers from areas near large bodies of water were good for making liqueurs since there is more flavor in the cucumbers due to the thicker skins and denser cores – the proximity to large bodies of water

Daiquiri – originally from Cuba, Daiquiri is actually a small town in Cuba, the daiquiri was originally made with sugar cane juice, lime juice and fresh rum

Simple syrup = 1 part water + 1 part sugar

Sour mix = 1 part simple syrup + 1 part citrus juice

When serving a cold cocktail without ice, chill the glass with ice before pouring

Bridget did something she called the "Chicago Shake" (note: Bridget is from the Midwestern U.S.) — the Chicago Shake means that the bartender shakes the cocktail until their hands hurt and nearly freeze to the metal shaker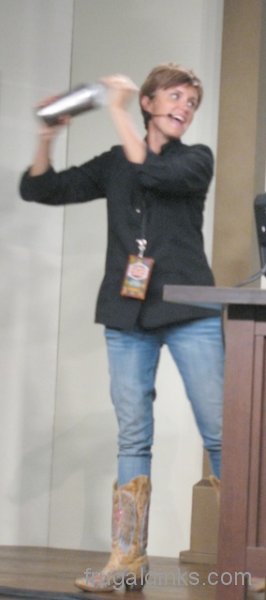 Chicago Shake! Cool Boots Bridget!
The only disappointment was that our cocktails did not come in the proper glasses nor with garnish.  Below is a photo of the drink they actually made on stage.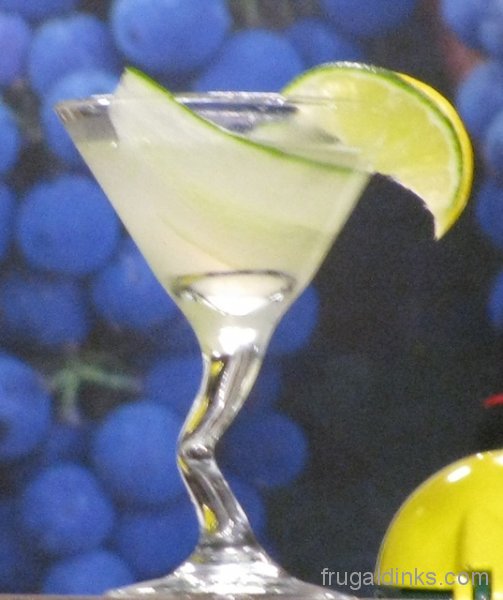 Drink #2: Bramble Bird
1 1/2 ounces Cruzan Single Barrel Rum (this is a single barrel rum, aged ~ 12 years; after 5 years it is re-barreled & aged another 5-7 years; aged in bourbon barrels)
1 ounce Thatcher's Apple Spice Ginger Liquer
2 bar spoons of fresh seasonal berries (or 1/2 ounces of mixed berry puree)
Ginger Beer (the mixologists used Gosling Ginger Beer)
juice from lime wedge
mint leaf
Build in a tall glass. Muddle. Add ice and store
Garnish with mint and berries
It is rare for the presenters to involve an audience member.  However, Bridget and Philip were really having fun – just like good bartenders should.  So they invited an audience member up on the stage to help "muddle".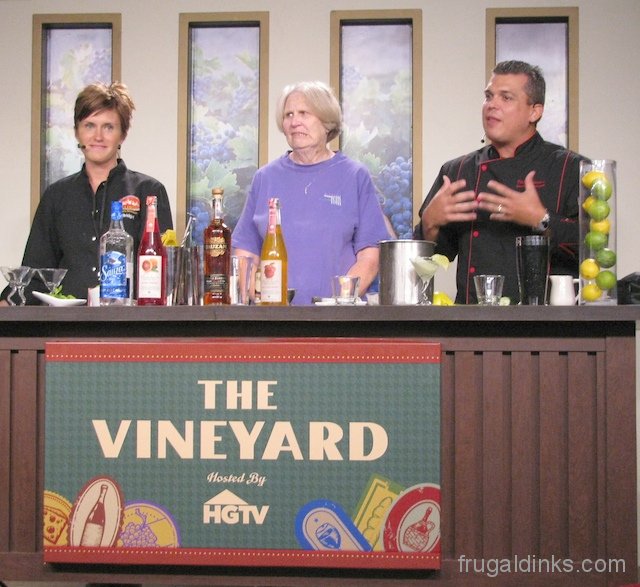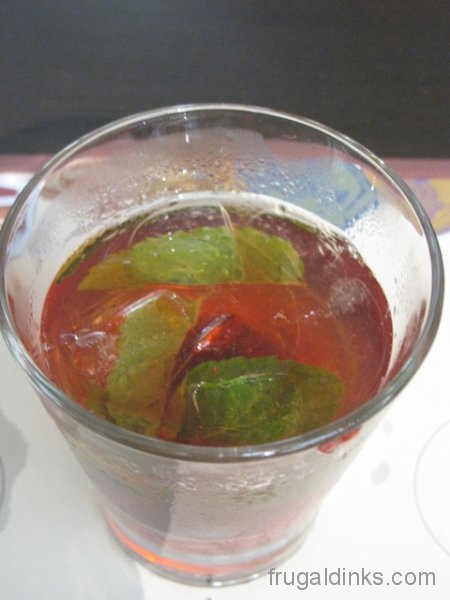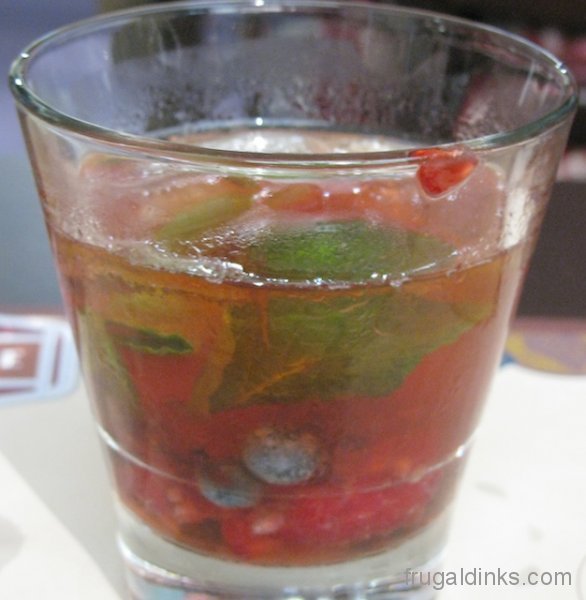 Tasting Notes:
nora's thoughts: this is a bit too herb-y for me, it tastes okay, but I don't like the mint flavors; this drink is in the style of a mojito (not a favorite of mine)
nick's thoughts: this drink was made so early and served over ice, nothing but water on the top and there's no way to remix; could not get to the flavors due to the water layer; once past the water, too much mint (and I really like mint), mint is overpowering; left most of it undrunk
Apple Spice Ginger Liqueur – made from Gala apples

A Bramble is a classic cocktail – originally made with bourbon; Bridget turned it on its head

Muddling – berries and lime juice mashed – add mint & lightly press

Muddling = crush & extract juices & oils
Drink #3: Blood Orange Margarita
1 1/2 ounces Sauza Blue Silve Tequila
1 ounce Thatcher's Organic Blood Orange Liqueur
1 ounce fresh lime juice
1 ounce Monin agave nectar
Splash fresh squeezed orange juice
Shake well with ice and strain into chilled cocktail glass or over ice in a highball
Garnish with a thin lime wheel or blood orange wheel if in season
Optional – Blood Orange sugar & salt rimmer. Mix together equal parts kosher salt and granulated sugar. Dip glass into Thatcher's Blood Orange Liqueur and then into the salt/sugar mixture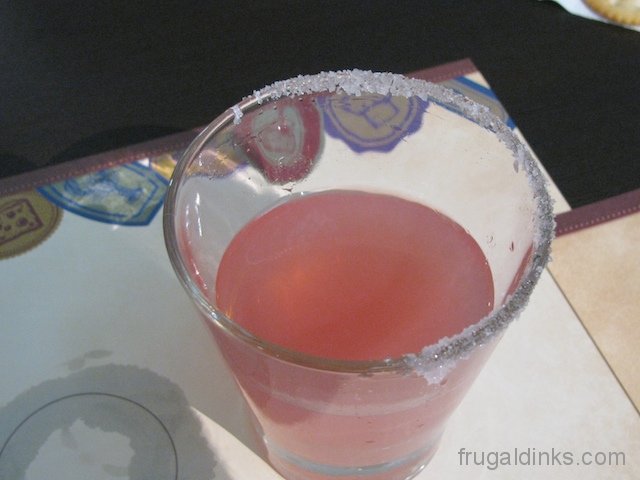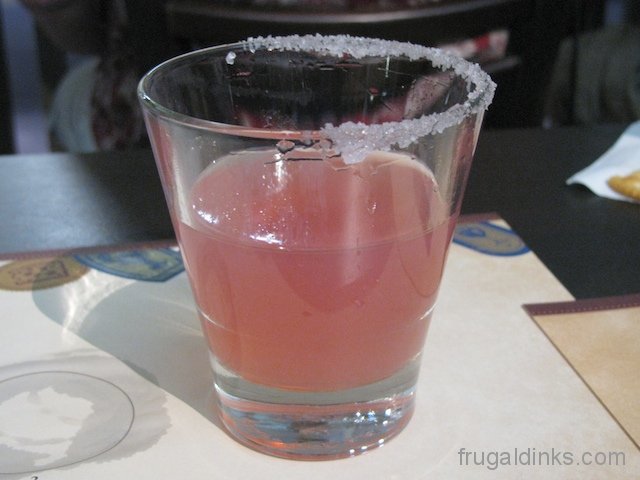 Tasting Notes:
nora's thoughts: yum yum yum; loved the salt & sugar mix on the rim; this drink is really good, my favorite; I do love my tequila
nick's thoughts: salt & sugar combo on the rim is excellent; the fresh ingredients really make a margarita; nice flavors; just a sip says it has a punch
Blood Orange Liqueur – blood oranges come from Sicily, not Argentian

Margarita — origin is not clear, probably named after a woman (New Mexico, Arizona, Mexico) — very simple = tequila, lime juice, sugar/agave syrup

Instead of orange liqueur, they decided to use blood orange liqueur
Philip and Bridget reminded us how much fun good bartenders have together. They make you smile, they make you laugh and they have a good time.  That does not require tossing bottles or doing tricks.  It is being people oriented. Notice that Philip is about to laugh and Bridget is laughing in the photo below. When you find a good bartender – tip them well – they are a rare breed nowadays.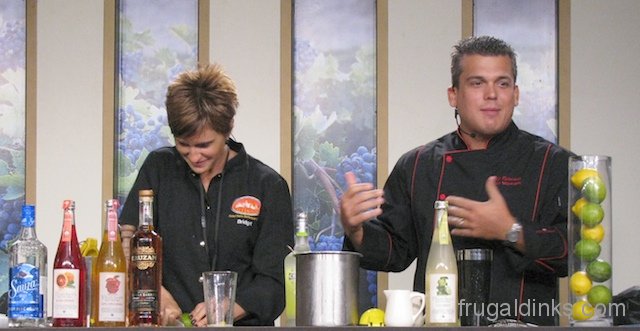 Bridget offering the toast; "Cocktails are like a kiss, best when shared!"
nora & nick