On Saturday October 1st, Walt Disney World (WDW) turned 40 years old.  We were in first grade when WDW, specifically Magic Kingdom (MK) opened on October 1st 1971.  Nora dreamed of coming to WDW when she was a child.  As far as I can recall, I never thought about coming when I was a child.  I don't think I knew what WDW was until some time after I met Nora.  We both visited for the first time during Easter 1990.  A friend at the time had grown up in Florida and spent many, many days at MK.
Our first visit was on Easter Sunday and our friend insisted we do rides in order based on her childhood memories.  Needless to say Nora had bought a guidebook and thought our friend was nuts… She was!  We waited almost 3 hours to ride Jungle Cruise.  We swore we would never return to WDW… So much has changed hasn't it?  But that is a story best told by Nora.
Nora and I have been quite busy, so we made no plans to attend the special events happening at MK on Saturday.  However, Nora had seen a limited edition iPhone cover that was to be released at the 40th anniversary.  The Disney Parks blog promised details for when and where to buy these but never released those details (Nora even checked before breakfast on Saturday).  Nora needed to work on Saturday, so I volunteered to go to MK and see if I could find the iPhone cover she wanted. Plus it was our first truly perfect weather day since May and I wanted to be outside.
All of us who are frequent WDW visitors have some parking tricks, especially for MK.  I actually enjoy parking at Epcot and taking the monorail.  But on Saturday Epcot was having a half marathon and it was the first weekend of Food & Wine, I knew Epcot would be a zoo.  So I opted for one of my alternate ways to park without using MK parking.  For the first time ever, I was denied!  By the time I finally parked and made it to the gates, a normal 25 minute trip had taken 2 hours!!!
I didn't take my camera as I expected crowds and wanted to avoid any lines that I could. When I got to bag check it was backed up into the walkway that comes from the bus stops.  Gosh, what have I got myself into?  I expected crowds but not this. When I got through the turnstiles I tried to get a photo with my iPhone but you cannot really tell how long the line is…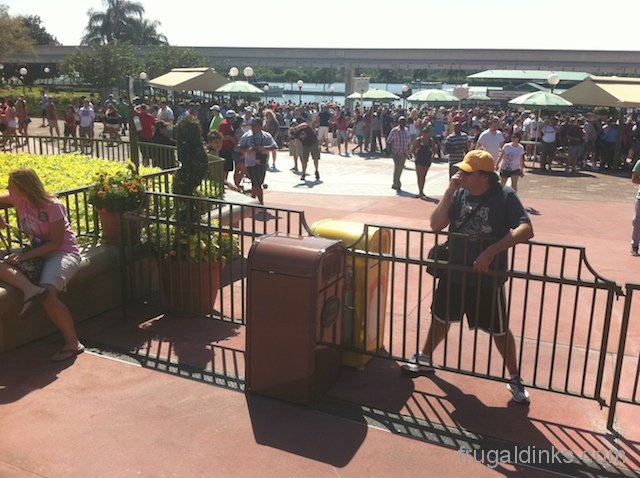 MK is all decked out for Halloween.  However they did add a 40th anniversary banner for the event…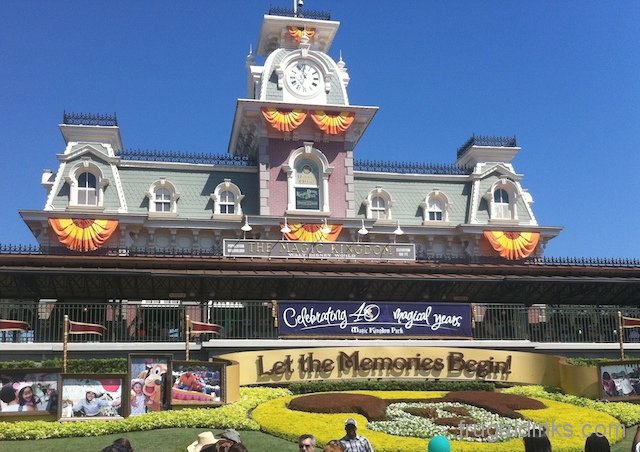 When I passed through the turnstile a cast member handed me a button.  I was so focused on getting through the crowd to find Nora's case that I almost rejected it.  But I regained my wits and put it in my pocket.  Here is the button celebrating 40 years of magic.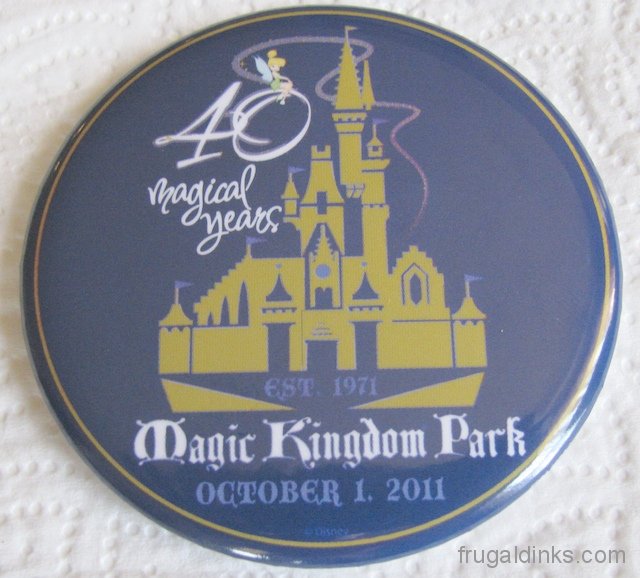 My next surprise was walking into the tunnel under the train station… First it was how gruff the cat member was, "One map per person only." Over and over and over… I waited to get my one map and it is rather nice even if the cast member was not using his Disney training very well.
Second surprise: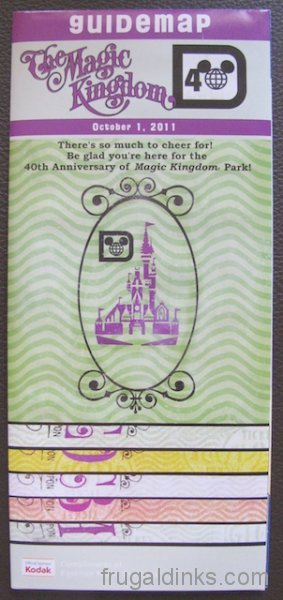 An "E-Ticket"?  At the top it says, "There is so much to cheer for! Be glad you're here for the 40th Anniversary of Magic Kingdom Park!"
Inside the map: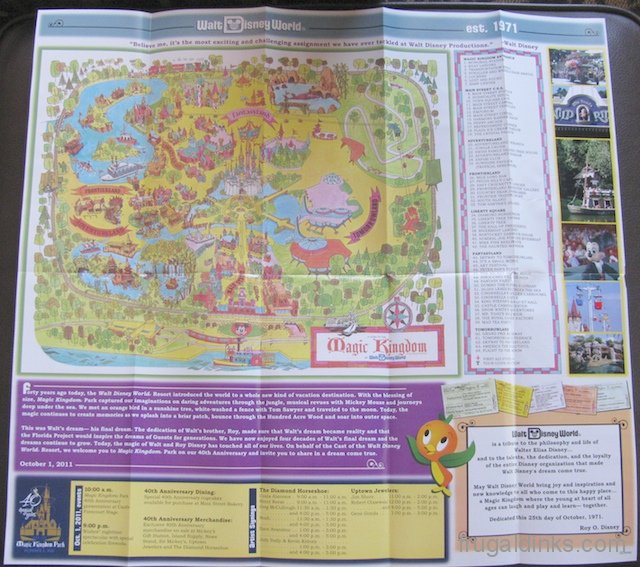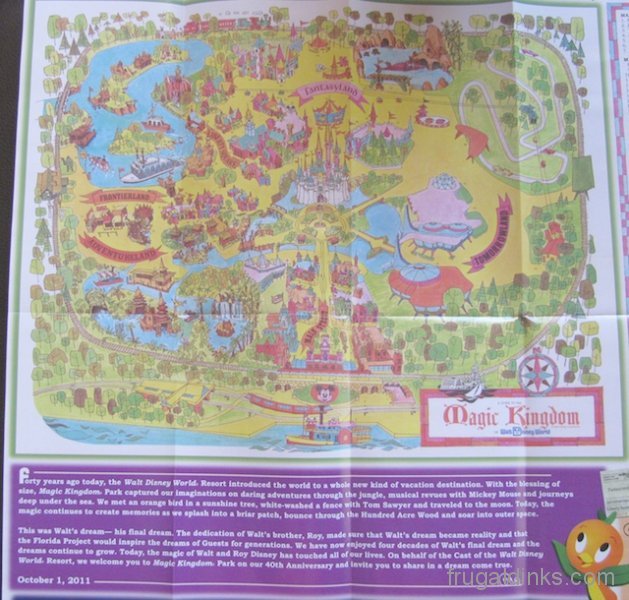 The caption which Disney dated October 1, 2011 says:
Forty years ago today, the Walt Disney World(r) Resort introduced the world to a whole new kind of vacation destinations. With the blessing of size, Magic Kingdom(r) Park captured our imaginations on daring adventures through the jungle, musical reviews with Mickey Mouse and journeys deep under the sea. We met an orange bird in a sunshine tree, white-washed a fence with Tom Sawyer and traveled to the moon. Today, the magic continues to create memories as we splash into a briar patch, bounce through the Hundred Acre Wood and soar into outer space.

This was Walt's dream — his final dream. The dedication of Walt's brother, Roy, made sure that Walt's dream became reality and that the Florida Project would inspire the dreams of Guests for generations. We have now enjoyed four decades of Walt's final dream and the dreams continue to gorw. Today, the magic of Walt and Roy Disney has touched all of our lives. On behalf of the Cast of the Walt Disney World(r) Resort, we welcome you to Magic Kingdom(r) Park on our 40th Anniversary and invite you to share in a dream come true.
I finally squeezed through the crowd and into store with 40th anniversary merchandise.  But where was the iPhone case?  Found it, there were three hooks filled, I grabbed 2 and called Nora. "Should I get you two?" Nora declined a second one for keeps as she says she will use this case.  When I walked back over (2 minutes maybe) a cast member was putting out different merchandise on 2 of the 3 hooks.  There were 3 cases left.  I asked her if she had more. "No, that is all there are left."  If I had been 5 minutes later I would not have retrieved Nora's prize.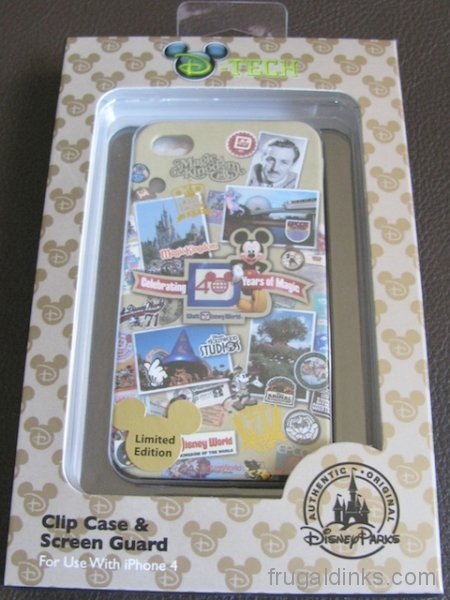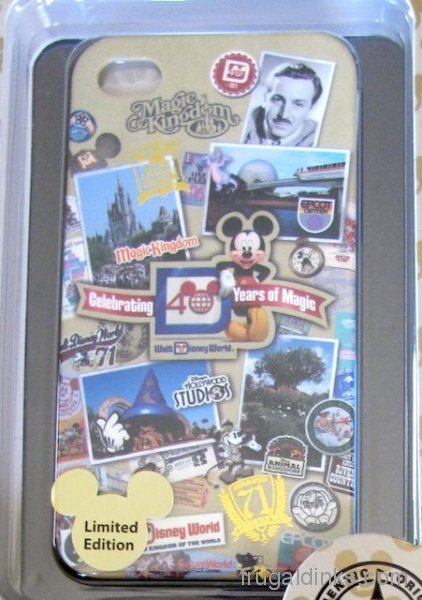 There were only 1971 of these covers released.  So when I returned Nora and I agreed… Tomorrow is our 29th dating anniversary – we'll call this her present (since we never buy each other gifts)!
The crowds were huge by my standards. The store was packed and most of the displays were being picked bare.  I had to stand in a pretty long line just to check out.  Recession? What recession?  I wish I could give you a sense of the people on Main Street.  Here is a shot from my iPhone: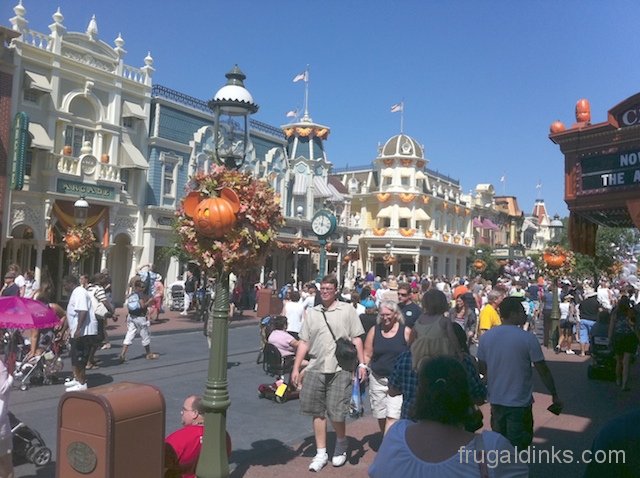 Happy Anniversary Magic Kingdom and Walt Disney World.  I look forward to seeing how you've matured by 50.
nick
P.S. If anyone WANTS the map and the button please let us know! It was purely by chance that Nick got them 🙂 As most of you know, we do clear-outs regularly & these will be going unless someone really wants them. nora
P.P.S. Now I have to get me an iPhone 4 to go with my really nifty iPhone 4 cover!
2 nice essays from the internet re: WDW 40th Birthday, both from Wendy Neeld at "Your Highway in the Sky" (here & here)