Food Who: Kevin Dundon from Raglan Road at Downtown Disney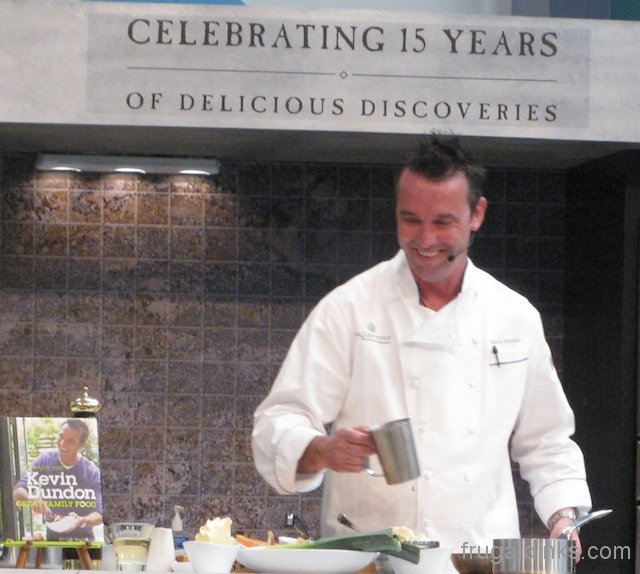 Wine Who: Yarden, Israeli wine – the Golan Heights region has been growing wine off and on for centuries (5000 years). The current winery isn't very old, the Golan Heights Winery released it's first vintage in 1984. In 1986 they won their first gold medal at a wine expo. The winery does not use any additives, they only get what the grapes will provide.
Wine: Moscato
Nose – acidic
Color – straw
Taste – fizzy and very sweet
the representative from Yarden said that he particularly likes Moscato with tex-mex and other spicy food because of the blend of the sweetness of the wine with the hearty spicy flavors
this wine's notes change depending on what you're eating, while you may not think of moscato as being very versatile; it pairs well with many foods
When: Friday, November 5, 2010
About the Demonstration:
Raglan Road is a "gastropub" located at Downtown Disney. The idea that Chef Kevin had was to take regular irish food and kick it up to the next level of 'cuisine'. In addition to the Raglan Road at Disney World, there is also a new Raglan Road in Kansas City. He also currently has a cookery school at his restaurant and hotel in Ireland.
He seemed to genuinely be happy and pleased to be conducting this demonstration – also, he was focused on us as his audience and guests. Chef Kevin explained why today's dish was called the "Salmon of Knowledge" …
The Salmon of Wisdom or Salmon of Knowledge (bradán feasa) is a creature figuring in the Fenian Cycle of Irish mythology.

The Salmon figures prominently in The Boyhood Deeds of Fionn, which recounts the early adventures of Fionn mac Cumhaill. According to the story, it was an ordinary salmon that ate the nine hazelnuts that fell into the Well of Wisdom (aka Tobar Segais) from nine hazel trees that surrounded the well. In doing so, the salmon gained all the knowledge in the world. Moreover, the first person to eat of its flesh would, in turn, gain this knowledge.

The poet Finn Eces spent seven years fishing for the salmon. When he finally caught it, he instructed his apprentice, Fionn, to prepare it for him. Fionn burned his thumb when spattered with a drop of the hot fat from the cooking salmon and immediately sucked on it to ease the pain. Unbeknownst to Fionn, all the wisdom had been concentrated into that one drop, and Fionn had just imbibed it all.

When he brought the cooked meal to Finegas, his master saw a fire in the boy's eyes that had not been there before. When asked by Finegas, Fionn first denied that he had eaten of the fish. But when pressed, Fionn admitted his accidental taste. Throughout the rest of his life, Fionn could access this font of knowledge merely by biting his thumb.

It was this incredible knowledge and wisdom gained from the Salmon of Knowledge that allowed Fionn to become the leader of the Fianna, the famed heroes of Irish myth.

In Welsh mythology, the story of how the poet Taliesin received his wisdom follows a similar pattern.

(this version from wikipedia (at this page) most closely matches the story told by Chef Kevin)

(another version is found at luminarium.org)
Organic & Farmer's Markets – not so much… The moderator, Pam (maybe she's the emcee?) asked him about organic food. We think she was a bit taken aback by his response. Chef Dundon isn't a fan of "organic" food – there isn't a difference in the nutrients or the food itself – he is a huge fan of buy local, buy fresh, and eat soon! He stressed that you should eat what is in season … after all if it isn't strawberry season, those strawberries aren't going to be as good as the local ones you get when they are in season. He was asked about buying at your local farmer's market – and here he really went off the foodie media bandwagon – a lot of the foods that are available at so-called local markets aren't local foods, they're not any different that what you might buy at a local grocery store. The produce comes into the market in large boxes and is presented as if it's local. If you're going to frequent the local farmers market, you should get to know the sellers and know what is grown locally and what isn't.
Food with flavor… one of the biggest reasons for eating local, fresh and soon is TASTE. Food with lots of flavor needs simple preparation without a lot of spices and other junk to make up for lack of flavor.
Chef Kevin was justifiably proud that the food at Raglan Road is 100% house-made (as was Chef Jose from Paradiso 37). As we've said before, this is a trend that we'd love to see propagated around WDW property – and not just at the "fine dining" venues.
Our Take on this Demonstration/Tasting… we really enjoyed this demonstration; Chef Kevin was very enthusiastic and friendly without being over the top AND he really cooked!!; the salmon was warm when served! (what a shocker); the  portion was decent sized (actually it would be what we'd consider a full-portion); the smoked salmon laid across the top of the salmon filet added a bit of a smoked-bacon-flavor; we could have done without the maple butter sauce (not huge fans of maple anyway & in particular, we don't care for maple with meat/fish/poultry); the sweet sparkly wine improved when eating the salmon (not that it's going to convert us into sweet wine fans); the bread-and-butter pudding was quite good (but of course, Nora started immediately scheming on how she would do it "better").
Menu: Salmon of Knowledge & Bread and Butter Pudding
Salmon of Knowledge
1 ounce olive oil
1 each salmon fillet (8 to 9 oz)
4 ounces of mashed potato
2 ounces leek fondue – see below
1 1/2 ounces maple butter – see below
4 sprigs of parsley
thinly sliced smoked salmon
maple syrup
butter
Method:
Heat olive oil in saute pan
Cover the "non skin side" of salmon fillet with smoked salmon to hold in moisture
Carefully place the salmon fillet skin side down, allow to cook over high heat for a minute to sear
Drizzle a tiny bit of maple syrup over the salmon and add a few lumps of butter
Place the pan in the oven and continue to cook for about 5 minutes until done, salmon should be moist and juicy
Remove and plate accordingly
Drizzle with maple butter and garnish with parsley sprig
Maple Butter
1 ounce shallots, chopped
1 ounce thyme sprigs
1 tsp peppercorns, black, cracked
1 cup white wine
1 ounce lemon juice
1 quart heavy cream
2 cups maple syrup
1 tbs Kosher salt
1 pound butter, chilled and cubed
Method:
In a pot, combine shallots, thyme, peppercorns, wine and lemon juice, bring to a boil and reduce by half
Add in the heavy cream, maple syrup and salt, bring to a boil and reduce by half
Lower the flame to a minimum and whisk in the butter a little at a time while stirring to emulsify
Strain, divide into bottles and keep warm for service
Bread and Butter Pudding (can also be found here)
1 loaf Pullman or Texas toast
1 lb Kerrygold butter softened
1 lb sugar
1 qt Creme Anglaise (recipe below)
1 cup raisins soaked in Irish Mist or water (chef used golden and dark raisins)
Method:
Combine the sugar and the butter, spread evenly on both side of the bread and stack together & cut off the crusts
Cut in half, corner to corner
Butter the inside of 8 oven-proof cups or preferred baking dish
Take each piece of bread, one by one, dip into the creme anglaise and place in the baking dish, layer these pieces of bread with soaked raisins
Bake covered in bain marie at 375F for 35 minutes until it rises a bit. Remove cover and bake an extra 10 minutes until slightly brown
Carefully remove from oven and allow to cool slightly, serve warm or at room temperature with anglaise and butterscotch sauces — using spoons, make a cavity in the center of each serving and pour the sauces into that crater
Sauce Anglaise = Creme Anglaise
6 egg yolks
2 cups sugar
1 vanilla bean split & pulp extracted OR 1 tsp vanilla abstract
1 qt heavy cream
Method:
Heat up the cream and vanilla until it nearly boils. Keep an eye on it and do step 2
Combine egg yolks and sugar in a bowl and whisk well
When cream reaches almost boiling, turn off stove and remove pan from heat
Temper the yolks & sugar by adding a small amount of the hot cream to the yolks & sugar and mixing well
Add the yolk & sugar mixture to the cream, whisk well so that it does not curdle
Place over low flame for 2 minutes, whisking until it starts to thicken
Strain & allow to cool to room temperature
Butterscotch Sauce
1/2 lb Kerrygold butter, chilled
1/2 lb brown sugar
1 cup heavy cream
Method:
Combine sugar and butter in a pot and cook over medium heat, stirring/whisking well (keep stirring)
When sugar is melted and it starts to boil, remove from heat
Whisk in cream
Allow to cool to room temperature
A parting note: one of our all time favorite things to eat at any restaurant is Smokie City from Raglan Road, when they took it off the menu for a while we moaned and groaned to everyone who even SEEMED to listen – thankfully, it's back on the menu and Chef Kevin assured us that it was here to stay (because it has so many fans) – if you haven't tried it, it's a wonderful appetizer and here's a link to the recipe (Harry has made this back home in England & says that it's a hit over there too!)