This dining experience took place on Friday, March 28, 2014
We put Il Mulino to a real test on the last Friday night in March – we didn't contact Angela (manager) ahead of time to let her know we were coming in for dinner, we just showed up and got a table. We were seated in the area off to the right of the entrance (we've sat here before, I think both times with Lisa and Andy), this time we were between two pillars/posts at a table for two. It was a TINY table, barely enough room for our tableware and the menus (in fact, there wasn't enough room, a guest passing by knocked the menus to the floor). We asked our server Rebecca if there was a different table where we'd have more room, without any problem, she moved us to a 4 top with two chairs and two seats on the banquette with big windows behind us. Much more comfortable, but we noted that the springs in the banquette need some attention, pretty saggy.
We began with a large bottle of still water and the customary bread basket with eggplant caponatta and sausage…
We ordered two beers to start…
First up, the Instok Icelandic toasted Porter (6% ABV).
This beer as very dark, definite toasted aromas, rich chocolate and tobacco flavors – also, not too hoppy and not too bitter. It paired better with the eggplant chunks than it did with the tomato or sausage.
The other beer was Ommegang Witte beer (5.1% ABV).
Nick wasn't too sure about this beer, it tasted better when paired with the eggplant caponata, especially the tomato in it. I got a lot of floral hops aroma.
We went with something new for our starter "Carpaccio di tonno" a.k.a. tuna carpaccio…
Described as "thinly shaved, center cut tuna, served with arugula, EVOO, and lemon juice. They aren't mentioned in the menu description – but it's topped with fried capers (yay!) Nick said that he really liked the capers and I really liked the lightly dressed arugula.. The tuna itself was quite tasty and as you can see, it's very very thin.
I really liked this and I think I could be satisfied with this as dinner.
This time, we thought we'd split a pasta course… The Rigatoni con Funghi sounded good. We got a half order (keep in mind, this is an option with all the pastas at Il Mulino).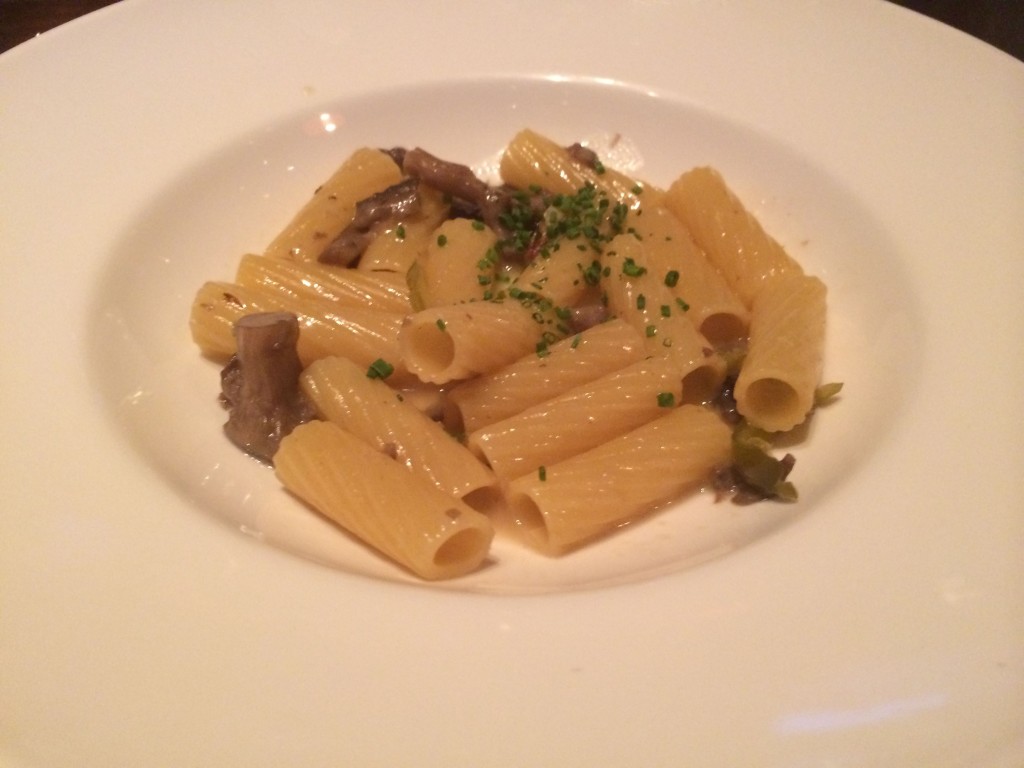 Described as "rigatoni with wild mushrooms, spicy cherry peppers, garlic and truffle oil", we asked Rebecca to bring two wines that she thought would pair well…
Antinori Guado al Tasso "Bruciato" Cab-Merlot-Syrah blend, 2012 $19
Allegrini-Renacer, Ensamore, Malbec-Cab blend, Mendoza CA, 2010 $19
Both of these wines were fruity and rich with light rounded tannins.
Back to the rigatoni – it was "way" undercooked, not al dente at all. When Rebecca saw us sort of hesitating and picking at it, she came right over and took it away and had them redo the dish for us.
This time the pasta was cooked correctly, the garlic was noticeable, and there were more mushrooms.
Nick preferred the Allegrini-Renacer by itself and when paired with the pasta. The Antinori had more tannins (more to my liking) but I agreed that the Allegrini-Renacer was better with the earthy woodiness of the mushrooms. The Antinori really needed the garlic to make it shine. All in all, we liked this dish – pretty simple but quite good.
Now, on to the main course – fish of course – and we went with the Chef's Special… Cernia (Florida Grouper).
Described as "seared grouper with cherry tomatoes, garlic, pancetta, and white wine served over broccoli rabe"… Again we asked Rebecca for a couple of wines…
Tolloy, Pinot Grigio, Alto Adige 2012 $11
Geyser Peak, Uncensored, California $10
(we went from the most expensive wines by the glass to the least expensive, nice balance)
Nose and Taste without food: Nick thought that the Pinot Grigio was more sour and that the Geyser Peak was more grass. I liked the Pinot Grigio more than I thought I would (typically, not a huge fan) and the Geyser Peak was grassy, mineral, sour.
As the wines warmed slightly, the Geyser Peak became a little sweeter and the Pinot Grigio became a bit grassier.
The grouper was nicely seasoned and seared. We both preferred the Geyser Peak with the protein, while the Pinot Grigio paired better with the accompaniments. The broccoli rabe reminded me of expertly cooked southern greens. The two wines were a toss-up as to which was better.
There was a decent serving of vegetable and the fish was properly prepared, all in all … an excellent choice. Nick even said that this might be better than the Cozze Fra Diavolo (my response is OMG!).
At the end of the meal, we had a chance to chat with Angela as we enjoyed a limoncello… we let her know that Rebecca did an excellent job and that we were very pleased with the food.
Okay, so when are we going back? Soon we hope.