So by now you know that we're fans of Kevin Dundon and fans of Raglan Road Pub at Downtown Disney. And, in recent years, as Kevin has done more special events (outside of the signature dinner during the Epcot Food & Wine Festival), we've not been able to make it work with our schedules… In fact, the midsummer event in 2014 won't work for us because we'll be in England at that time… BUT we WERE able to schedule the Lunch Demonstration during the Mighty Irish Festival (a.k.a. the 10 day long St Patrick's Day Festival at Downtown Disney).
Keep in mind that in addition to loving Kevin Dundon and Raglan Road Pub, we are also big fans of lunch demonstrations (and not so much fans of wine dinners… too much wine, too late in the day, not our scene).
The menu for the lunch demonstration is said to come entirely from Kevin's new cookbook and from his PBS show "Modern Irish Cooking"… however, there's one dish that I'm pretty sure isn't in the cookbook (I've looked and looked and looked) BUT it is on the Raglan Road menu… Gnocchi Sea Gnocchi Doo…
We have loads of photos, and a few notes and experiences to share with you…
When we first arrived, the host said that we could wait in the bar area and that someone would come and get us. Okay, cool, we both ordered a Guiness from Gina and I kept seeing a dark haired woman who I thought I recognized while Nick went around and took some photos. (so who was the dark haired woman? I'll tell you in a minute)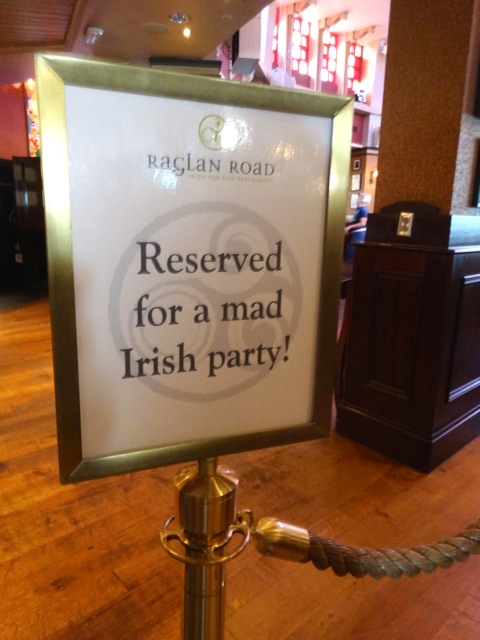 We definitely appreciated the humor in the sign setting the demonstration area apart.
We weren't as appreciative when they started letting guests seat themselves in the reserved area… We were told when making the reservation and when we checked in with the host that it was reserved assigned seating. Anyway, I went back to the hostess stand  and found out that it was open seating (alright, okay, we were on top of things), and so we quickly got seats at one of the front tables. (By the way, the front tables, had much more comfortable chairs!)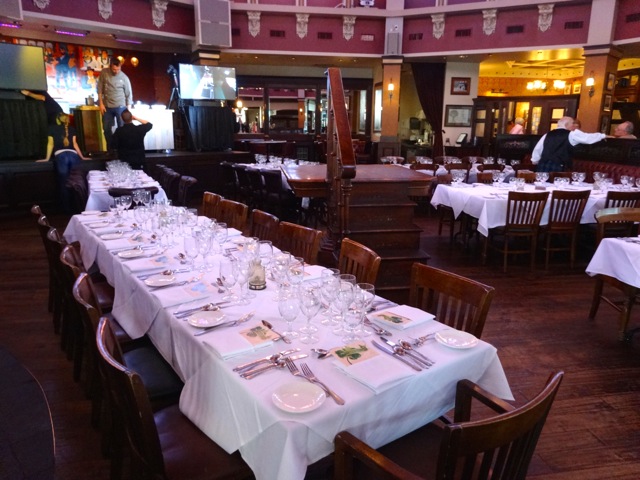 The tables were nicely set and since we were there early, Nick was able to get some photos of Chef Kevin and crew getting ready…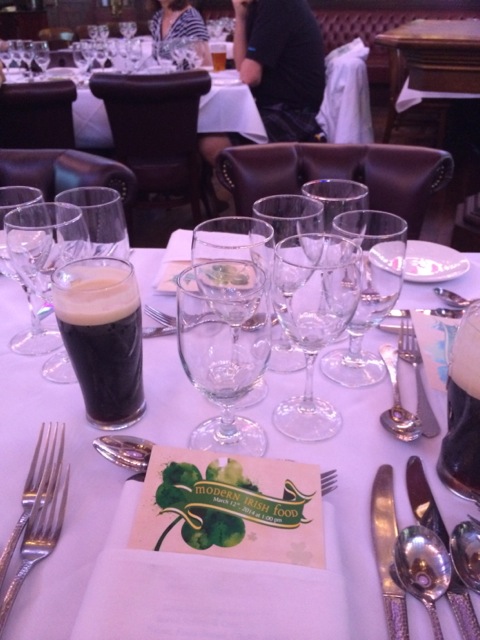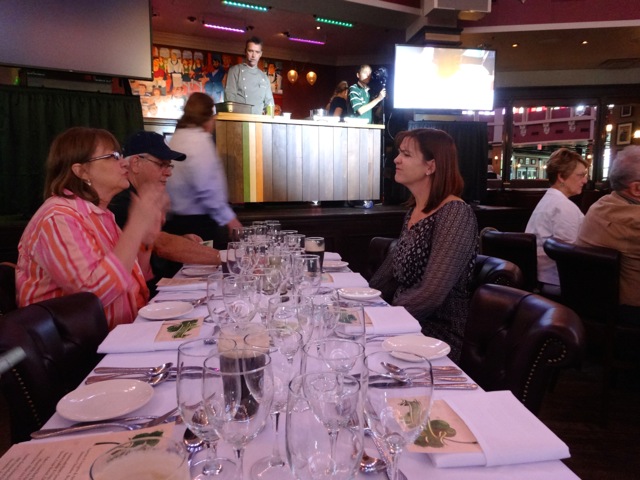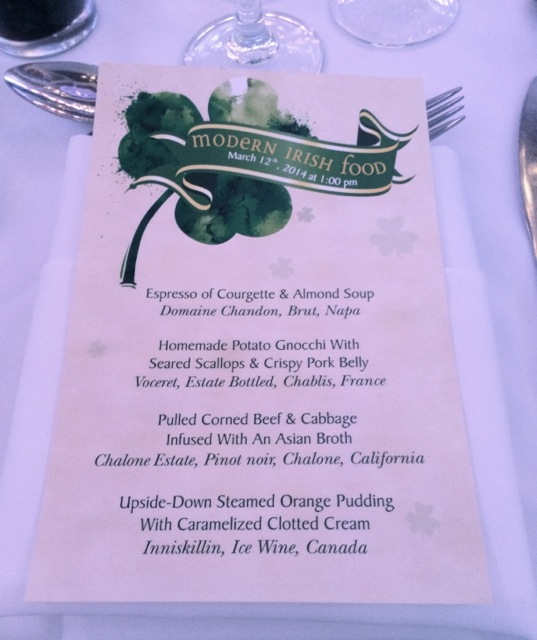 When Kevin came back out to begin the demonstration, he had on his "Raglan Road" Chef's coat – he commented that he fit in now because he was wearing green…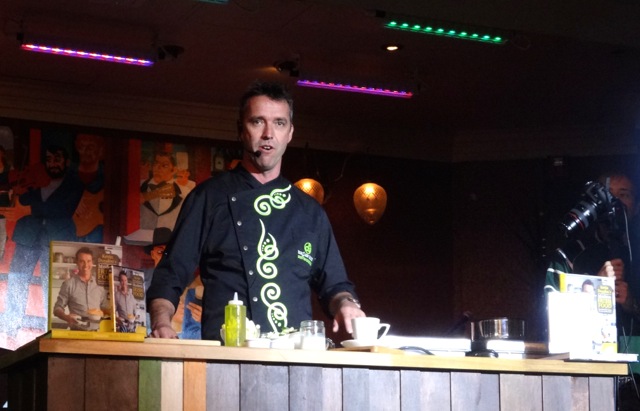 As always, Chef Kevin is a very engaging and enthusiastic presenter… It's hard to get a photo of him being still… Here you can see him cooking and talking with Amy Meddins as he cooks the soup course… (Yes, the dark haired woman I'd been staring at because I was certain that I knew her was Amy – who we've seen at all the other Chef Dundon demonstrations we've been to, duh nora).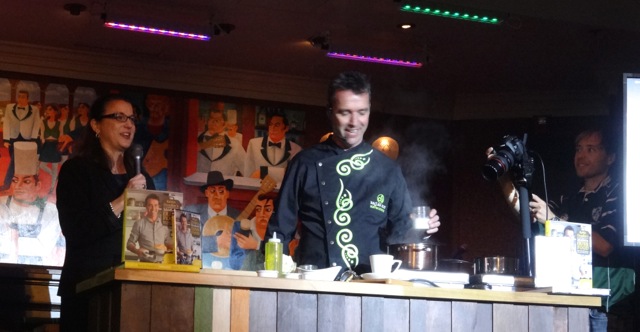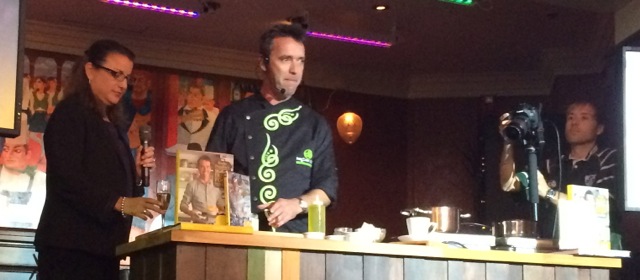 There is definitely a teacher in Kevin's personality, one of the reasons we're looking forward to attending some cooking classes at Dunbrody House in 2015… A few other reasons, we really want to visit his home/inn Dunbrody House and the PBS series made his teaching seem so engaging and Ireland seem so gorgeous.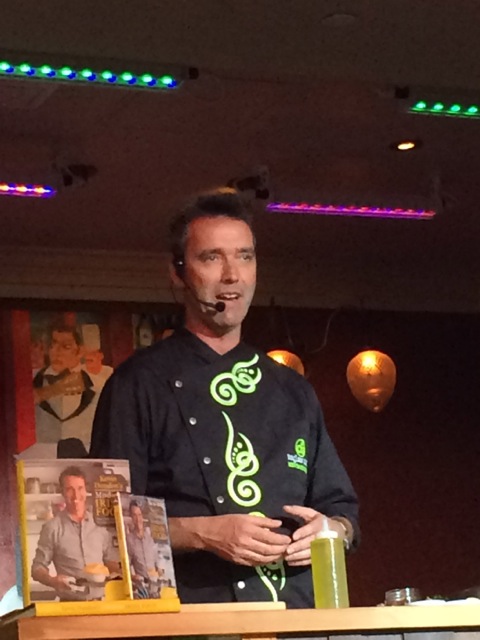 He also approaches cooking with such joy and a lot of laughter… It's clear that he loves food and he loves sharing that love with others.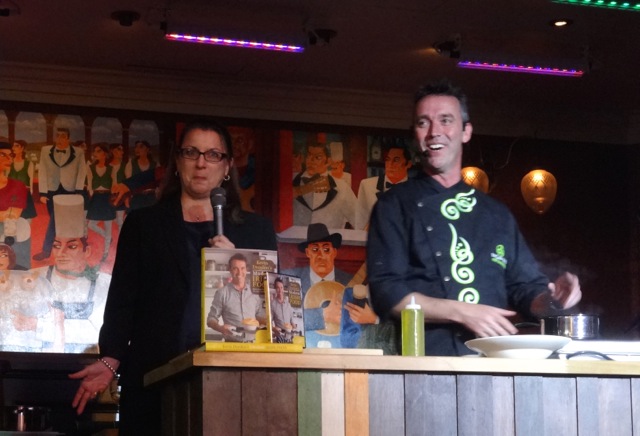 I'm not going to put the recipes in this post – there are three ways to get them, (1) buy Kevin Dundon's "Modern Irish Food" cookbook, (2) watch/buy the PBS television show, and (3) go to kevindundon.com (some of the recipes are available there)…
The first course was a cream soup… Kevin's presentation included a "foam" causing the soup to be more espresso-like, we didn't get any foam. The soup managed to be rich and creamy without being heavy…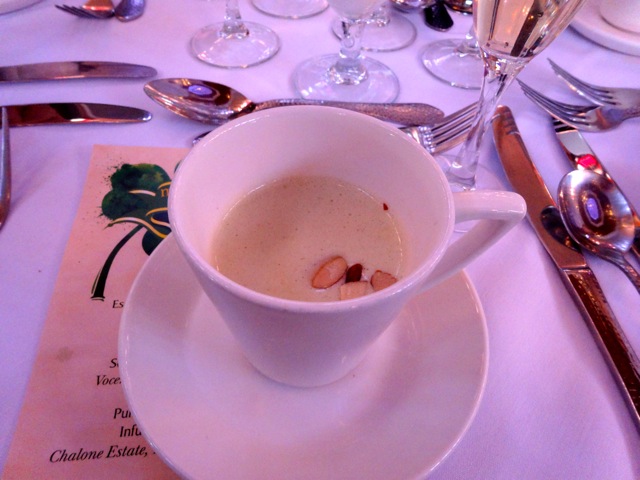 Amy presented the first wine, Domaine Chandon Brut (Napa California)… it was a sparkling wine, Kevin begged off "I don't drink bubbles"… The wine was a blend of Chardonnay, Pinot Noir, and Pinot Minay… It was chosen to pair with the almonds and cream in the soup. We thought that the pairing worked well, even though we aren't huge fans of "bubbles" either.
Difference from Kevin's presentation and the recipe – he put the almonds in right away, he used butter to glaze and thicken the soup, and crated a foam…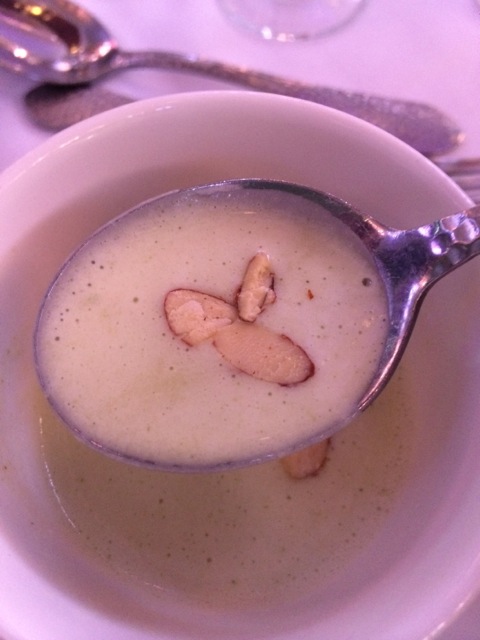 The soup had a very creamy smell, it was very good and the temperature was excellent, in fact, it was so good that I'm tempted to make it at home… Although, we'd like to see what it's like with the foam 🙂
The next course was "Homemade Potato Gnocchi with Seared Scallops and Crispy Pork Belly"… This is the dish that I think is available at Raglan Road as "Gnocchi Sea Gnocchi Doo"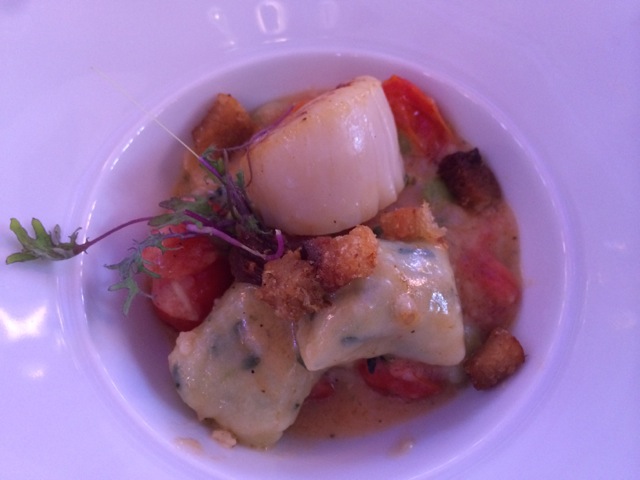 We both thought this was very tasty… It was paired with "Voceret, Estate Bottled, Chablis, France". The wine was similar to an unoaked Chardonnay and was pleasant, but not something that we kept talking about for days. but not something that we kept talking about for days. The pairing was nice.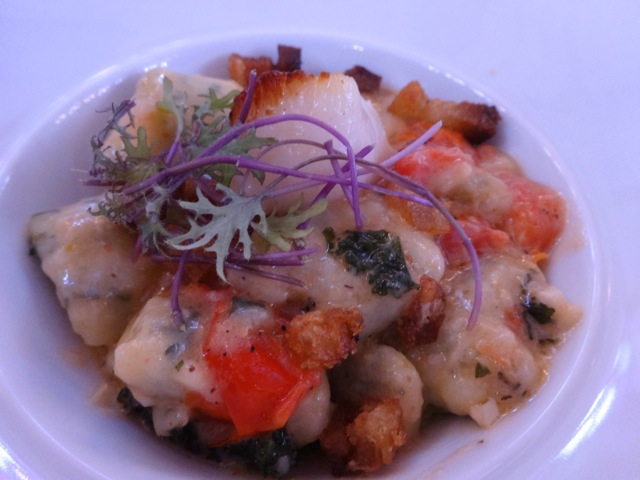 Nick's portion was a bit more generous than mine 🙂 you can see the crispy pork belly (bacon at the top), the tomatoes and green kale, and how puffy fluffy the gnocchi are…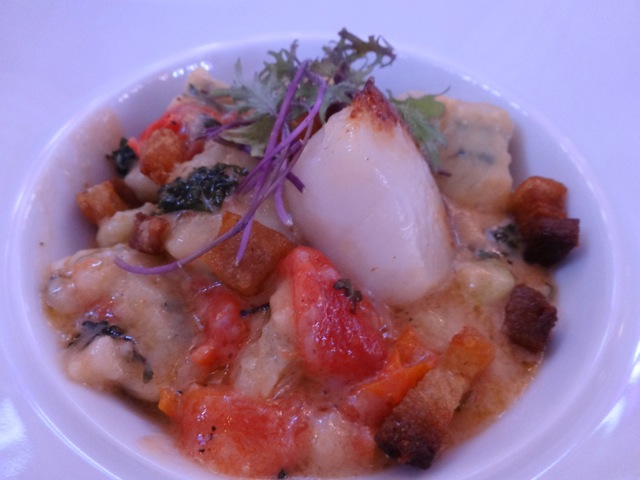 I liked this the first time I had it, and if I were back at Raglan Road and in the mood for pasta, I'd order it again. Kevin did say that the potatoes for the gnocchi were baked not boiled.
The next course was Pulled Corn Beef, it resembled a light soup to us, not so much a main course. Kevin said that it was "perfect hangover food"… it uses leftover corned beef…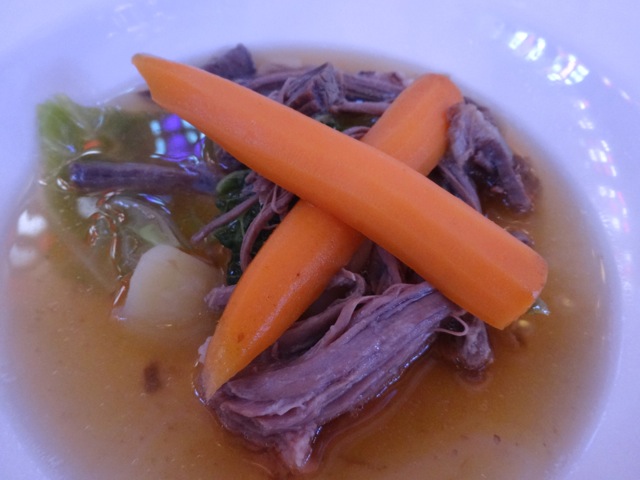 Because the Spice Route came through Ireland, if you look at "traditional dishes" from Ireland, you can easily see the influence of the spice road. There wasn't much fat and this wasn't very rich. Kevin noted that the broth was a vegetable stock (the menu said it was "an asian broth")…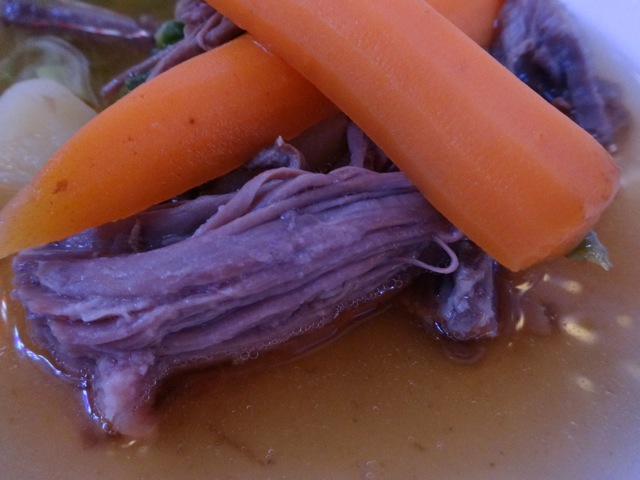 The potatoes were very fresh tasting however the beef tasted more like roast beef than what we expect corned beef to taste like. I liked this dish, but it wasn't anything like I expected… We expected more "corned" flavors and loads more cabbage.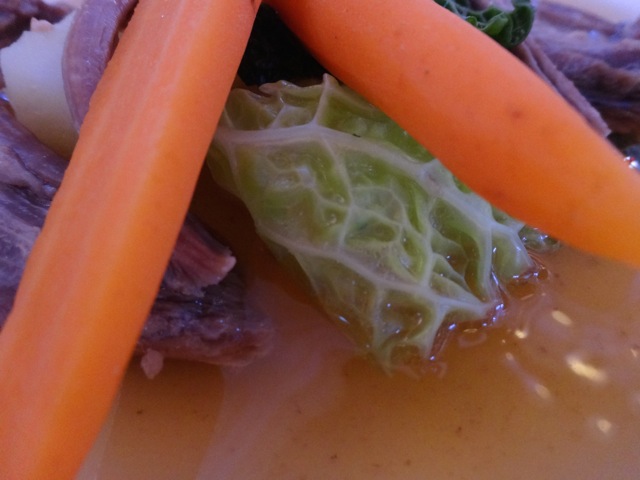 The wine, "Chalone Estate, Pinot Noir, Chalone, California" paired well and we both liked it… this sort of surprised us because we don't typically like Pinot Noir from California…
The final course was "pudding" (what we Americans call "dessert)… Kevin isn't a huge fan of dessert…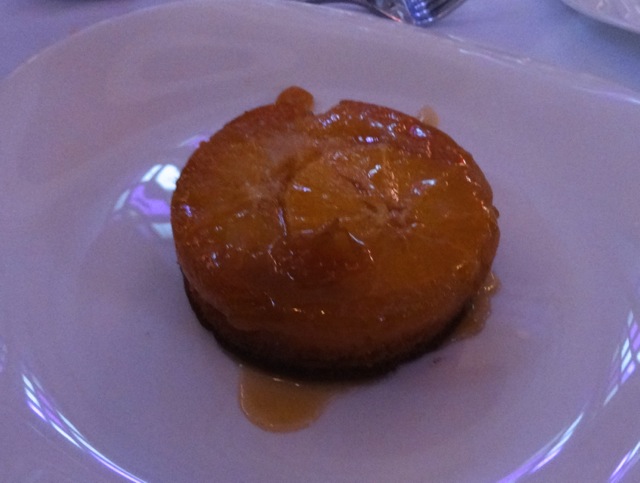 But, he liked this orange pudding so much that he ate the whole thing three times during the filming of the television show AND again during the photo shoot for the cookbook!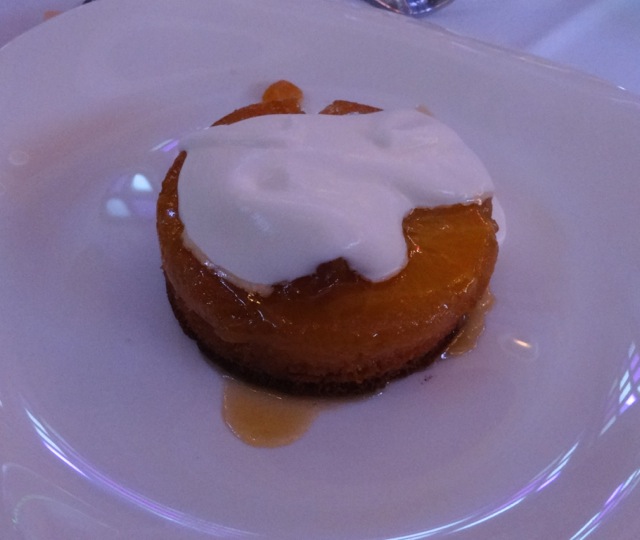 Good reason! This was really great. (here you can see Kevin enjoying it AGAIN!)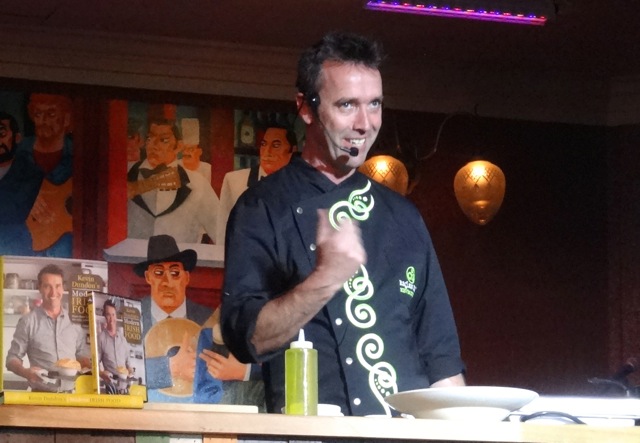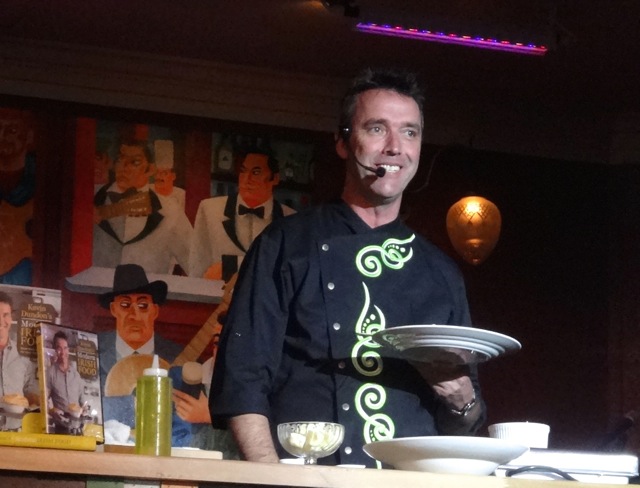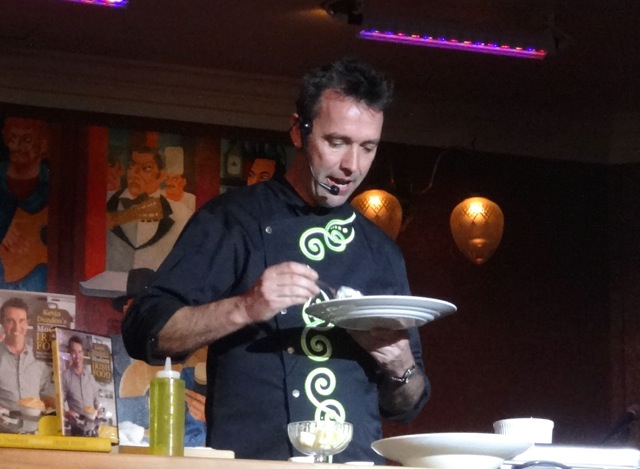 "Yes, I'm going to eat it (again)!"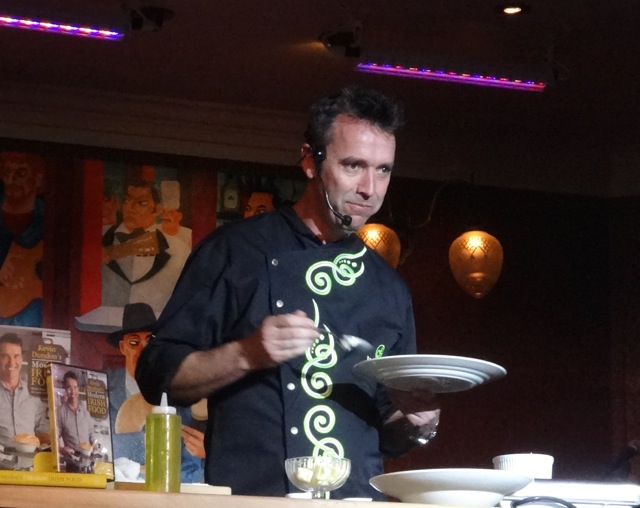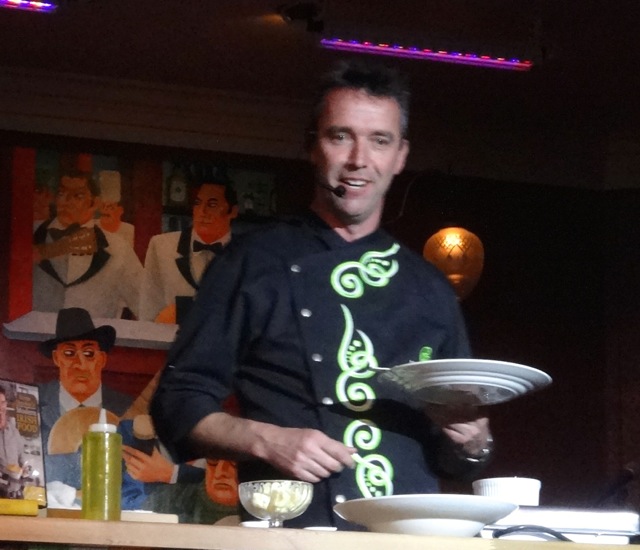 Kevin said that you don't have to use orange, that it works well with other fruits as well. I thought that I detected a bit of cornmeal in our portions, but the recipe doesn't include cornmeal (perhaps it's a textural thing I was perceiving).. We weren't huge fans of the Inniskillin, Ice Wine (Canada) paired with the dessert (or alone), it is syrupy and very sweet.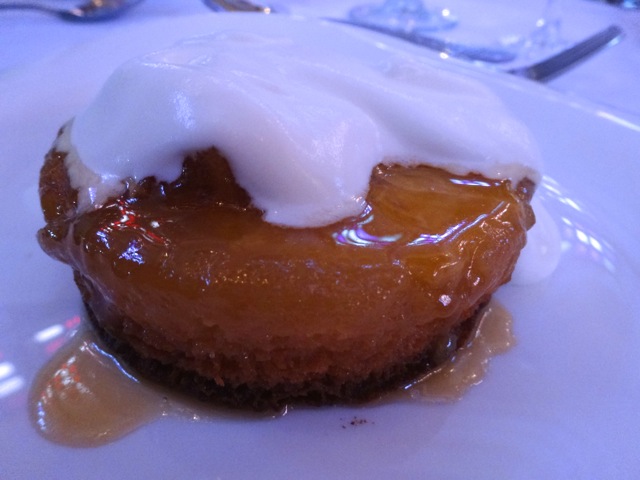 We think that this dessert would be better paired with a good coffee or maybe a nice Irish whiskey to balance the sweetness.
Postscript…
After the lunch demonstration, Chef Kevin went around the room talking to the guests and just generally being a good guy…
He signed Nora's copy of the cookbook and when she said that we'd tried a few times during the week to get a copy of the DVD, he ran up to the stage and grabbed a copy and gave it to her (very nice)… Also, he's not only a very good presenter, he's genuine and friendly… We're so looking forward to the next time we see him and to our visit to Wexford County, Ireland!
If you haven't had the opportunity to watch the PBS series "Modern Irish Food", we hope that you make the effort to do so. Also, I've heard rumors that there is a second cooking show in the works for PBS and it will focus on Kevin's next cookbook "I'd Ate The Back Door Buttered Ma" featuring Raglan Road Pub recipes… as far as I can tell, copies of that cookbook are not yet for sale.
also, if you're a fan of allearsnet, Jack Spence was also at the luncheon and the press event that followed (here)