Before Best Friends Resort opened at Walt Disney World, there was a kennel at Fort Wilderness Campground. Because of this you could drive into their parking lot without passing through the security gate. When the kennel closed, they moved the gates around and you must process through security to park your car. This has severely limited our walking at Fort Wilderness. There have been times when we'd go over there 3 or 4 times every week. It is a beautiful wooded setting and many campsites are always decorated. It just never gets "old" walking there. If you are an avid walker, you know how boring your neighborhood walk can become…
So because of the restricted access, we had not been over to see all the Halloween decorations. Even last year we made it over twice to look around. Realizing that we were about to miss some of the "extra magic" that Walt Disney World offers, we looked at our schedules and decided that Halloween worked best for a visit. I planned for us to get there about 5, get some quick photos before sunset at 6:30 then stay until about 8 getting some after dark photos. When we tried to enter there was a long line of cars at security. Even though the officer turned the car in front of us away, he let us in. Soon I realized that there were way more cars than I have ever seen at Fort Wilderness. In fact I circled every aisle and ended up double parking as people were parking anywhere there was space to fit a vehicle. (When we left all the grassy area next to the stables had become a parking lot. Turns out Halloween Night is HUGELY popular at Fort Wilderness Campground. More on that later…)
As we started to walk down the entrance road (the actual campsites don't start until you are about 600 yards into the campground) we heard horns honking and saw a cast member on a segway in the middle of the road. As we rounded a small bend we saw approximately 150 decorated golf carts. We knew about the 4th of July parade but we never knew there was a Halloween parade. We had stumbled onto some very unique and rarely seen by resort guests "extra magic" this time! (We bought lottery tickets just in case our good luck continues. 🙂 ) These parades are totally put on by guests but have gotten so large that Disney provides security for traffic control and now even brings out characters!
I took photos of basically every "float" as they passed by. The floats and costumes were incredible. My photos – not so much. I was so tickled to be watching that it turns out I was paying very little attention to my photography! The guests were tossing candy all along the parade route. And boy were many of the costumed guests staying "in character". If you are ever at WDW on July 4th or Halloween – make plans to go see the Fort Wilderness parade – you will enjoy it, I promise. For a slideshow of my favorites, there will be a post tomorrow.
I did have a few favorite golf carts. One was the "Minnie" cart decked out for Halloween. This man spends every winter at Fort Wilderness and every year he adds a little more detail to his customized golf cart. But instead of "throwing money at it" and hiring professionals – all his work is from his personal skills.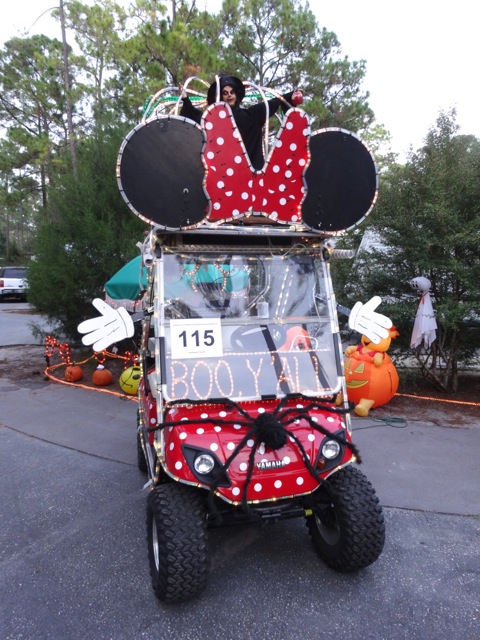 Another cart from the parade had an automatically telescoping skull on the back. Spooky music would play and the skull would rise. I later found it parked at the family's campsite…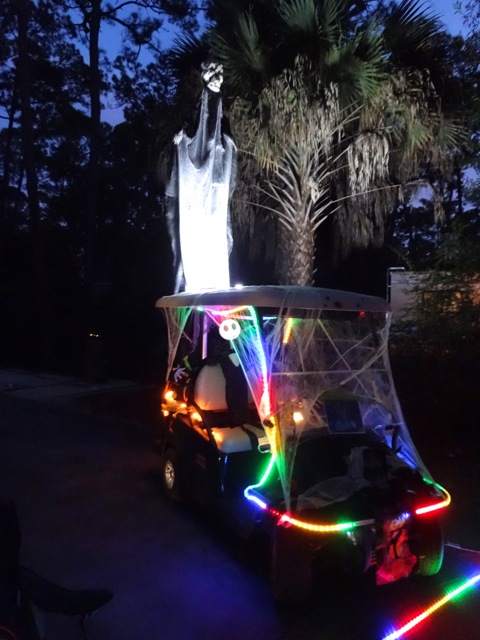 Nora really appreciated the balloon work that went into creating the "Finding Nemo" golf cart. Take a look at the three photos below and sees what all you can pick out from the movie.
Our favorite though was the "Wreck It Ralph" car and family. We did get to tell the family how impressed we were. As I thought about "why" it is not just the attention to detail. Sandy and Harry are visiting now. When we went to see them in Northumbria over the summer we spent one day hanging out at their cottage where we had a proper Sunday dinner. We also watched "Wreck It Ralph" together that afternoon and thus I think that the memories also make this "float" special for us.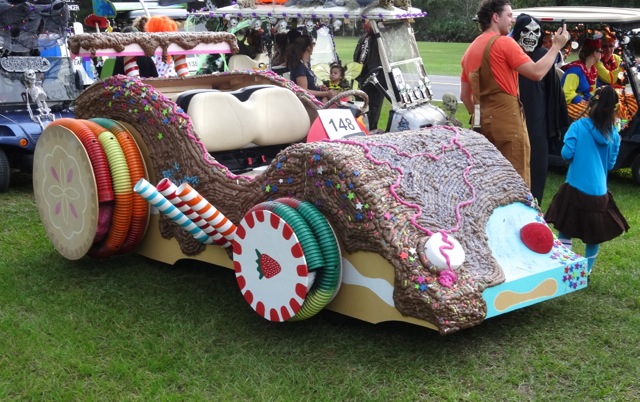 But enough about the golf carts, let's get to camp sites and decorations. Nora liked many of the pumpkins. I have no artistic skills at all. Nora can do most anything but  even she was impressed by some of the fine work we saw.
We thought the Pacman blow-up pumpkin was quite cute: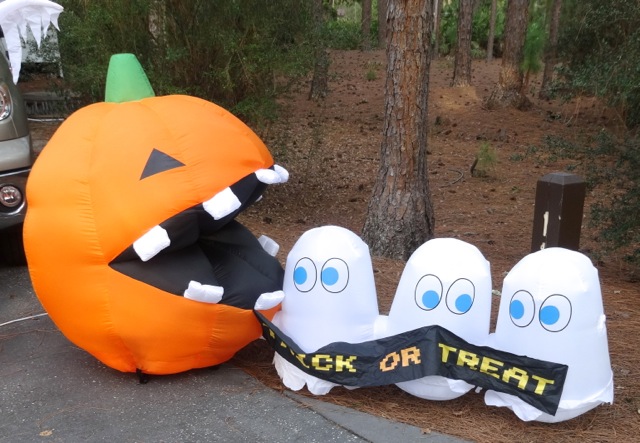 And Halloween would not be complete without our favorite monsters.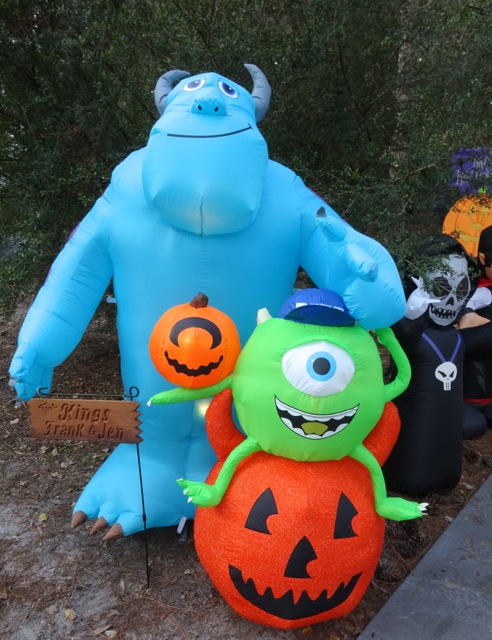 The 80/20 rule applies as always. Most campers have lots of "blow-up" items; easier to pack and to store. It is still fun to stroll around looking at them.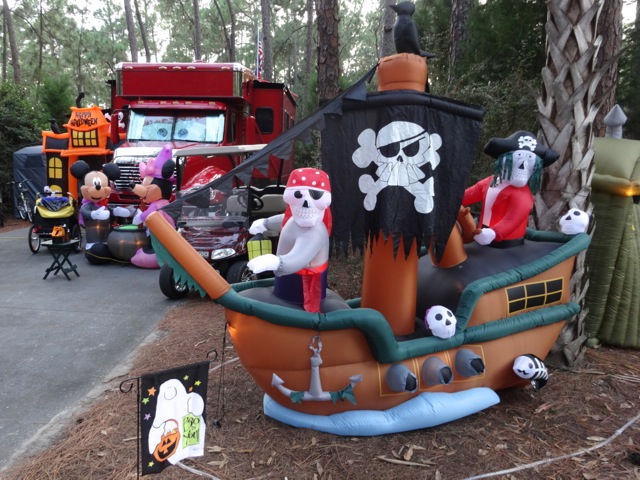 Some folks though really put loads of time and effort into their decorations. I really enjoy roasting marshmallows but sometimes the heat is a bit much. Do you think these skeletons notice the heat?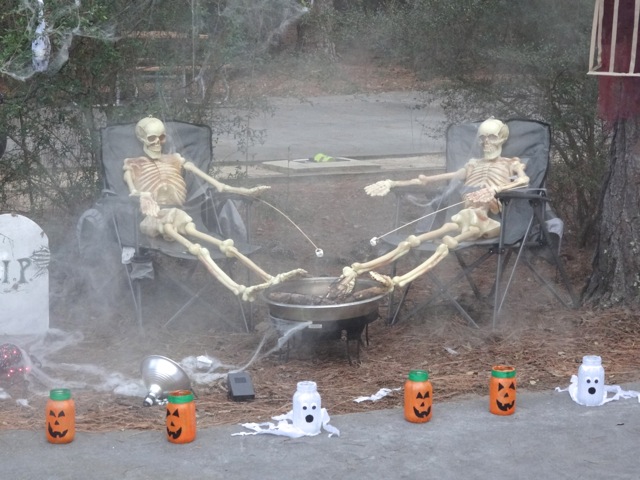 There was a super nice rig at the campground last Christmas. I did a full post on all the fantastic things they had done for their Christmas decorations. Well friends they are back at the campground for the winter. Their Halloween decorations were limited BUT they get a pass because Christmas is just around the corner. They did have another diorama set-up though.
Here are a couple more campsites for you…
One campsite in particular was incredible. There were 3 or 4 that had "walk through" haunted houses. But this campsite scared me in the daylight! When we went back after dark there was a golf cart traffic jam  trying to find places to park to enjoy all that this family had done for their "scaring" fun. There is even a floating head hologram in their mausoleum – incredible stuff!
I mentioned early on about the parking. As best we can guess either cast members or locals know that Fort Wilderness is a great place to go trick or treating. When we left at 8 there were still families walking by us in costume (whole families) to join the festivities. The camping loops with the most treats were often lines of people and golf carts. But no one was upset – there was music, costumes, scares and laughter. I kept thinking why have I never done this on Halloween before? A safe, friendly and tame way to enjoy the day! What a bit of extra Walt Disney World magic…
So will you join us at Fort Wilderness for Halloween 2014?
nick