We did the POSH Salt Culinary Demo last year and were really impressed with the products and the presenters, so much so that it was one of our top two culinary demonstrations (the other one in the top two was Kevin Dundon 2012).
Last year, we didn't have a wine presenter – Pam presented the American Riesling in 2012. This year, we had a wine presenter, it was really difficult to understand what she was saying (almost as though her grasp of English was limited to what she had memorized, and that was it!)… The wine was Trivento from Mendoza, Chile… full name Trivento Reserve Torrontes. Regardless of what the tasting notes say or what the presenters said… I detected some floral and citrus with the nose, Nick and I agreed completely that without food this wine was SOUR, we didn't care for it at all without food. No need to caution us to save some for the food… we wouldn't drink this alone.
Chef Alisa came out right after the wine presentation. I liked what she said…
The essentials of life… wine and salt.
She started out by talking about POSH Salt for a few minutes…
natural product
food your salt don't salt your food (use salt vessels for your cooking)
water content of food dissolves the salt – thus the level of saltiness is controlled by the food itself
salt retains its temperature for a long time… if you heat it slowly, it will stay hot for quite a while… and if you freeze it, it will stay cold for a long time
the salt bowl is her favorite (you can see it on the left of the photo above) – its great for making ice cream (freeze it) and its also great for making chocolate fondue (heat it)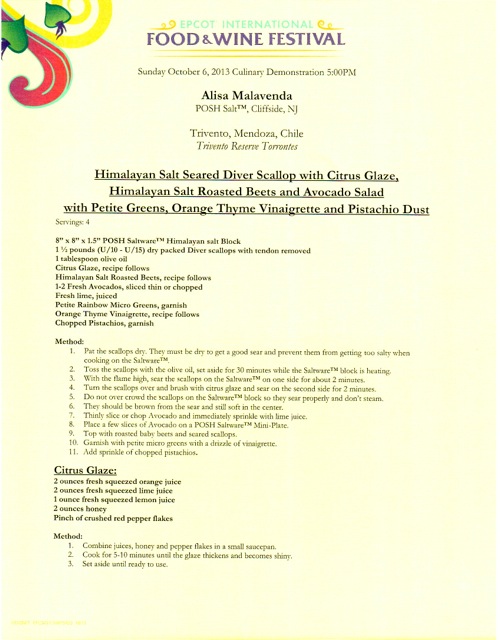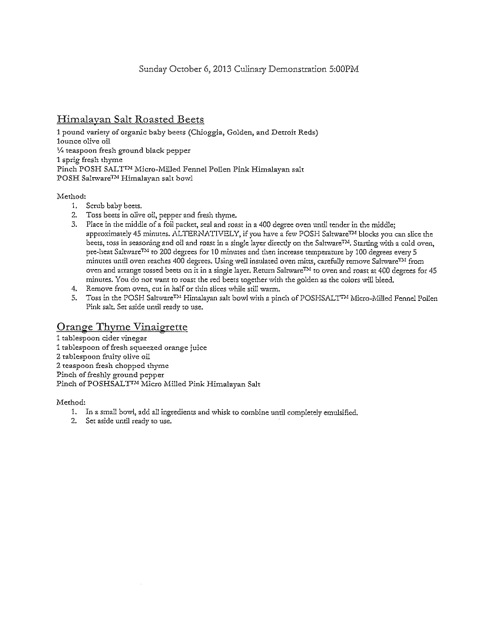 My scallop wasn't overcooked but it was "over-rested"… in other words, it was beyond medium rare because the residual heat continued to cook it while it sat and waited (and waited) to be served. Nick's scallop was even worse than mine, not quite a rubber eraser, but beyond yummy.
Neither of us had roasted beets, they were barely past raw.
The food seemed poorly suited for the salt disc… there was a lot of moisture from the citrus glaze and the vinaigrette, it just made a lot of salty water at the bottom of the plate.
As I said earlier, this was disappointing after the presentation in 2012. Maybe things were just off. Perhaps we should try again next year and go with our thoughts two out of three 🙂