The Walt Disney World Speedway was built in 1995 when the US open wheel racing series, at the time known as CART, decided to alienate most of their fans and split into two series. CART and the rival "Indy Racing League" (or IRL) needed race tracks that would draw spectators. The IRL was focused on ovals while what remained of CART focused on road courses and street circuits. Since there were few ovals designed for open wheel race cars, anything that could be done in a hurry was needed. Walt Disney World draws big crowds and has infrastructure, so why not build a track there? So the "new" IRL's very first race was in January 1996 at Walt Disney World Speedway and called the Indy 200 at Walt Disney World
The hallowed ground of oval track US open wheel racing is Indy – "The BrickYard". So when the Walt Disney World Speedway officially opened in 1996, it was affectionately given the nickname, "The MickYard". It didn't hurt that at the groundbreaking ceremony a brick from the famous "yard of bricks" at Indy was given to WDW officials. Thus it was this nickname that gave way to the first ever "Mustangs at the MickYard"  held Labor Day weekend 2013.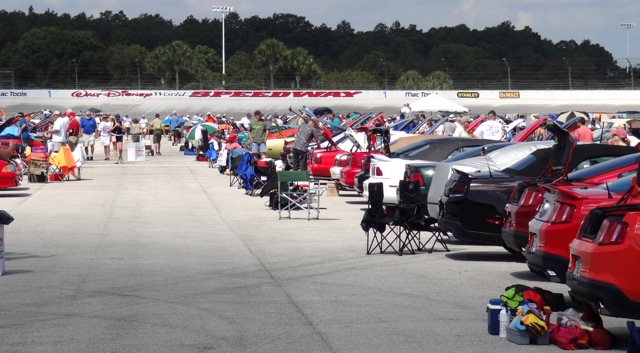 There were lots of Mustangs but due to the excessive heat and humidity, we didn't try to figure out an approximate number. I'd guess at least 350 but no more than 750. Unfortunately for classic car buffs, the older Mustangs were way outnumbered by late model 'Stangs. There was but one organized line of pre-'70 cars.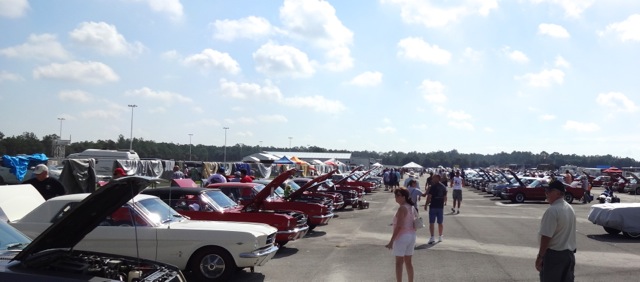 But there were about 10 organized lanes of cars to walk along and check out.

There were a few vendors, a few big time companies, maybe 4 food trucks and a couple of parts suppliers.
There were some serious problems and lots of disorganization. We arrived early and since we know our way around figured out the parking/shuttle problem pretty quickly. So we skipped the shuttle line (two 15 passenger vans with maybe 120 people in line) and walked from MK parking over to the racetrack entrance (5 minute walk). We were informed that no pedestrian traffic is allowed into the speedway – only vehicles. So…we had to wait. Thus we got to talk to a couple of Richard Petty Driving Experience Employees. (Side note: The Richard Petty folks run the racetrack now as their 3 driving/ride-along schools are the only things that happen at the speedway.)
Turns out that this will be the first and last "Mustangs at the MickYard" if the folks we talked to have any say. The 2 vans were arranged very last minute. The contract called for detailed transportation plans to be submitted 30 days prior to the event. An employee pointed to a man standing nearby on a cellphone and said he was the event organizer and "he is trying to arrange transportation right now."
Fortunately, A Richard Petty shuttle from MK (not one of the event's shuttles) arrived with 4 people aboard. We hopped in and got our ride through the tunnel into the track. Inside the track everyone was sweltering. No tents and no shade. It was humid for even FL! The track was built with NO facilities – just a racing surface and catch fence! So even when races were held – it was "porta-johns". Today, I counted 8 total! Really? There was no signage and no one seemed to have organized the vehicles for judging. Some cars were in tall (uncut) grass – we stayed away! There were cars still under their covers – seemingly the car owners had not arrived although the track opened at 6:30 for participants and 9:30 for spectators (and it was 10:30 when we were walking around). Plus, no signage, no flyers for what was happening when.
Maybe that was lucky for us because we were wilting fast and we get out every day barring massive rain. So we did a very quick walk through and drank our water for hydration. We did see a few nice cars (late model mainly).
This was one of the cleanest pre-70 'Stangs and Kermit caught my eye.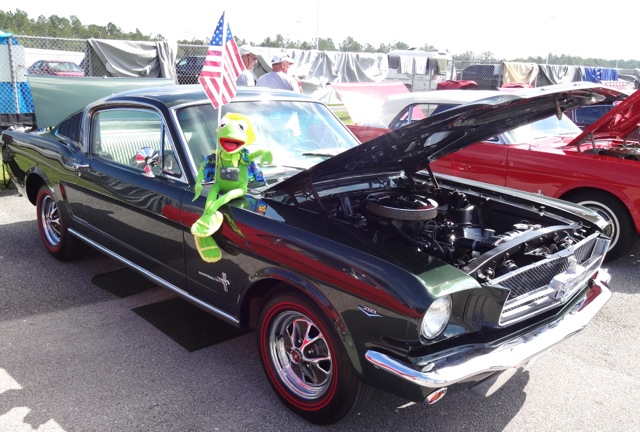 Having seen Monsters University this summer, it was fun to see someone at least "sticker" up their Mustang in tribute.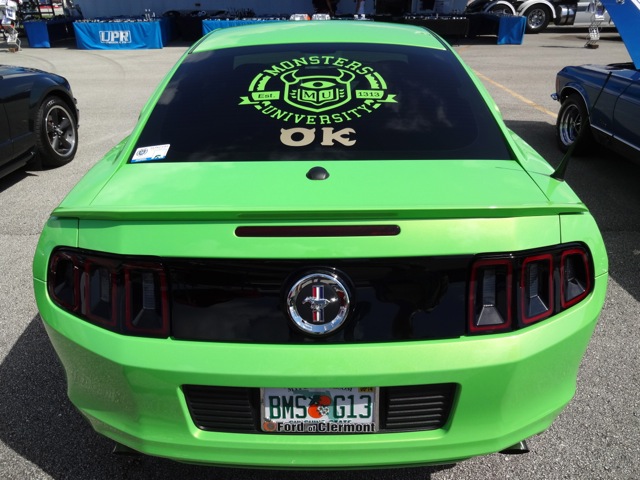 There was one Mustang (I think it was also at the 2012 Car Masters Weekend at DTD.) with scissor doors (ala Lambo).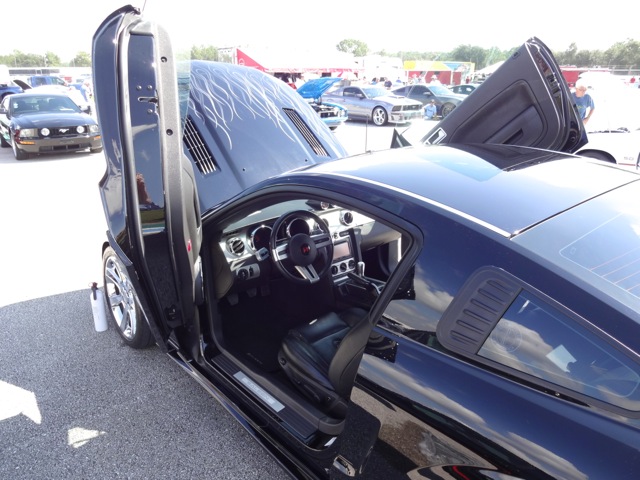 But I didn't know any Mustangs were hybrid until I saw this one. It burns rubber and gas! 😉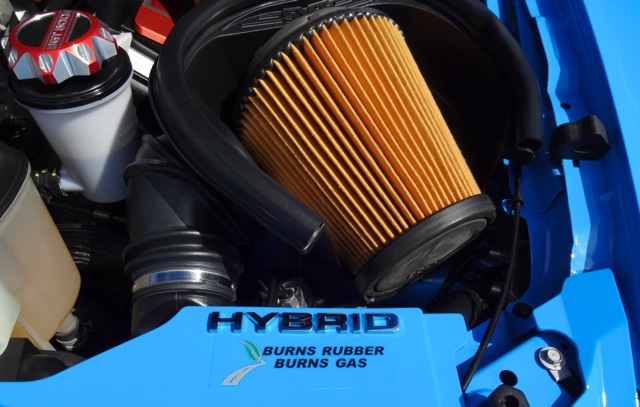 Finally, one entrant had a detailed show car. They had a custom Mustang trailer that was painted nicely with good graphics. (Sorry my photos do not do it justice – I was hot and hurrying.) The theme of car and matching trailer is "the Villain".
Fortunately for me this was just one of three (yes, three!!!) car events at WDW over Labor Day weekend 2013. I would have liked to have spent more time at "Mustangs at the MickYard" but the heat, lack of  organization and lack of facilities chased us off quickly. And guess what? When we left – the staff had been forced to allow pedestrian traffic through the tunnel as most people tired of waiting for a shuttle starting walking to the track. No surprise there, huh?
Bad show and too bad for all the folks who came out to spectate and participate…
nick